Jasmine Tate aiming for return after a concussion
Concussions are a part of the game, just like scoring and passing. More recently however, head injuries have become a norm not just in professional sports, but college as well.
Jasmine Tate, a junior guard on the women's basketball team, out of Columbus, Ohio, suffered a concussion at the beginning of the season, while on the verge of earning a starting spot. Ironically enough, it wasn't as common of a situation as a hit to the head in a basketball game or an elbow to the head while going up for a rebound.
"I got injured on September 3rd this past year. It was the third day of workouts, somebody left a bar on the rack [in the weight room] and I ran right into it," said Tate.
This season has been a hard transition from starting throughout the second half of last season, to watching her Colonial teammates from the bench this season.
"The toughest part has been the fact that I can't really contribute anything to my team, in a physical way. Watching the games and practice, and not being able to do anything," said Tate.
Tate continued, "Just having to really pick myself up when I get back, it's kind of been like fuel to the fire.  More of working harder than I ever have, just as a motivation when I go to the gym."
Head Coach Sal Buscaglia offered his insight on the situation, "It's really unfortunate about her situation, she such a good young lady. She has been battling injuries all her career."
"I know she is disappointed, because she wants to help the team. It has been unfair. She tries to keep her head up and she is doing her best. Her faith and belief in herself will pull her through this," said Coach Buscaglia.
Before her concussion in the 2009-2010 season, she averaged 1.6 points per game along with .8 rebounds per contest. As a freshman, she started in four of the 19 games she played in. Also, last season she averaged 1.5 points per game and 1.5 rebounds per matchup, while earning eight starts in the 28 games she contributed in.
As for Tate's improvement, she can sense things are finally getting better. "The first three months, every test went down. I've turned that corner, where things are getting better with therapy.  It is literally day by day," said Tate.
Concussions have been a tricky thing in the past with many athletes, just look at NBA all-star Chris Paul who missed a lot of time due to concussion-like symptoms. Tate has been out since September and is on the comeback trail.
Tate said, "I have been on the bench watching every game, my role right now is to support them and cheer the team on. I'm always there to help them see things from a different perspective. Being able to help the younger's players is great."
"For anyone with a concussion, it's the weirdest injury ever. It isn't like a physical injury where you can see the progress you've made on the road to recovery, you don't know the recovery time; right now I'm just taking it day-by-day," said the Ohio native.
To recognize a return as premature is often times a way to build motivation for the mentally tough. Tate has the quality to surround herself with great teammates that influence her recovery to alleviate stress and frustration.
As for a return, Tate knows she has a long way to go on the road to recovery.
"I know that it's going to take time for me to get back into shape since I've been out so long," said Tate.  "It's been almost a year since I've actually been able to play basketball.  It's going to be most important for me to come back and find my role on the team.  My role is obviously going to be different now than it would have been at the end of the season.  Until I get back on the court, I'm their biggest fan."
About the Writer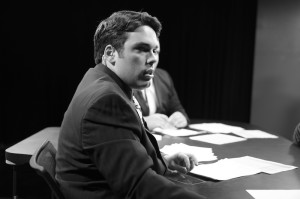 Jon Fisher, Social Media Editor
A senior communication major with a concentration in journalism.  Jon is a staff writer of the sports/opinons section and is the social media editor...