Josh and Jon Williams embracing opportunity to compete with one another
MOON TOWNSHIP — Josh Williams was pretty blunt about it.
"To be able to (play with each other) on a collegiate level is incredible. It's humbling. I couldn't ask for a better person to play next to."
One of the biggest stories of the, still fairly young, Colonials' season is the dynamic play making duo of Josh and Jon Williams.
Josh, currently a senior transfer from the University of Akron, joined the team last season but had to sit out during the 2017-2018 season, per the NCAA transfer rules. After spending a year practicing and participating with the team, but not suiting up, he found his way into the starting lineup for his last season as a college basketball player.
He has found many ways to contribute to the team, including averaging 14.4 points per game and shooting over 40% from three-point range. Against Mount Aloysius, he tied an NCAA record and set a Robert Morris record by recording 15 three-pointers on his way to setting the RMU single-game record with 49 points.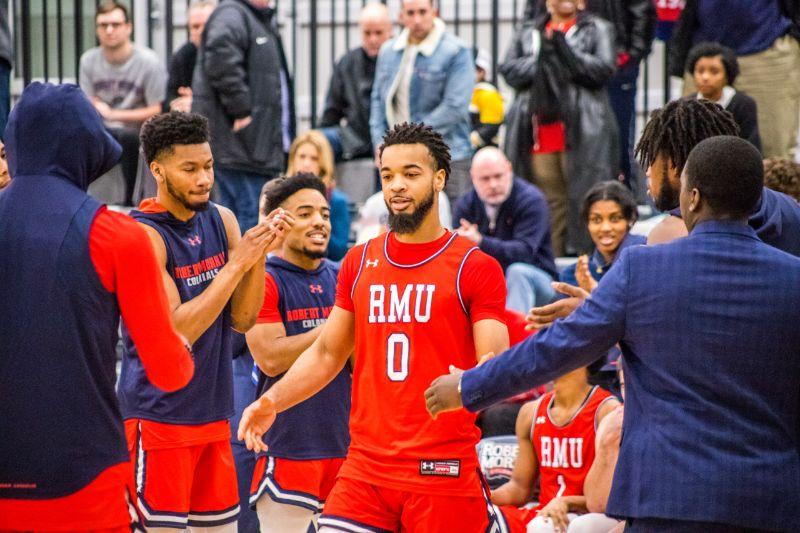 Jon, currently a sophomore with the team, just started in his 50th game as a Colonial this past weekend. He instantly found his place in the starting lineup and provides the team with much-needed stability. Jon currently averages 5.5 points per game and 4.3 assists per game, but his ability to convert open three-point attempts and run point guard for the Colonials has allowed him to succeed thus far in his career. He set a career high with ten assists this past weekend against Sacred Heart.
The Williams brothers reign from Akron, Ohio and attended the same high school as LeBron James, St. Vincent-St. Mary. The brothers, while two years apart, even share the same birthday.
"Their closeness and their relationship trickles down to the rest of the guys and creates a family atmosphere for the rest of the team," said Coach Andy Toole. "They wanted to play together. I think they wanted the opportunity to be on the court together and be on the same team together."
The two brothers are obviously very close. After Josh left to go to Akron, Jon played two more years at St. Vincent-St. Mary until he was recruited by Robert Morris before the start of his senior year. While Josh was at Akron, Jon impressed his brother with his improved play on the court before starting his collegiate basketball career.
"Sometimes we'll be on the court and he'll make a play and I'll (say) 'I didn't know he had that in him,'" said Josh about playing with his brother.
While Josh was at Akron, he was not their star player, he was averaging 7.5 points per game while only taking about six shots per game. His 21 minutes per game is a different story than the 32 minutes per game he averages at Robert Morris.
"I took a role at Akron that I wasn't accustomed to and I learned how to be a better follower and, more importantly, a better leader," said Josh. He credits Akron with helping him develop his game into what fans are seeing this season from him.
An issue he had with Akron is that their coach at the time, Keith Dambrot, left after Josh's sophomore year, accepting a job at Duquesne. Dambrot was also the coach at St. Vincent-St. Mary when LeBron James was in high school. After the coach left, Josh started to weigh his options on transferring.
"When the coach I had, Keith Dambrot, decided to leave, I was debating whether or not I would stay at Akron," said Josh about the events leading up to his decision to transfer from Akron.
While Josh began weighing his options, Jon was getting ready to start his collegiate career at Robert Morris. Each of the brothers tried to persuade each other to join them at their respective universities, but Jon ended up winning the battle.
"He was the biggest person recruiting me," said Josh with a smile on his face. "I was kind of pulling him toward Akron and he was pulling me toward Robert Morris, and I guess he pulled more than I did."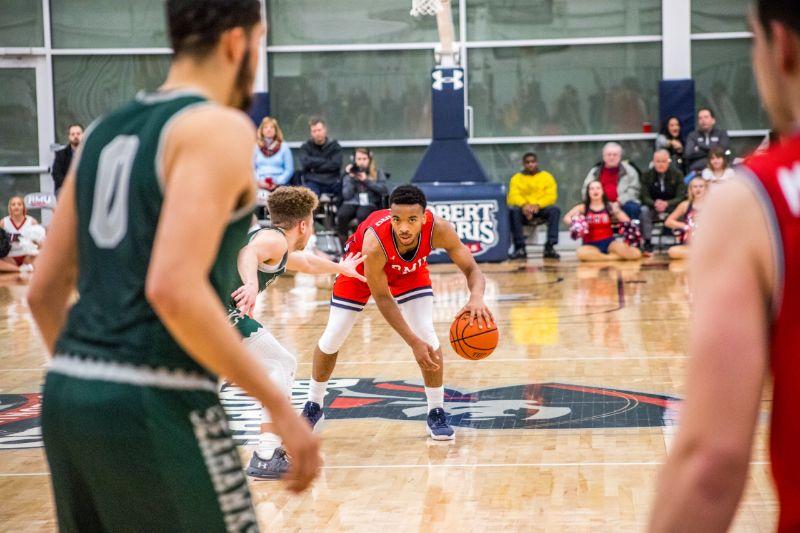 While Jon says that it was Josh's decision to pick whichever school he wanted to go to, he still admits that he had a little bit to do with Josh's decision to transfer to Robert Morris.
"When he considered it, I jumped on the opportunity to try to get him to come here and he chose here and I'm thankful that he did," said Jon Williams.
The Williams brothers have definitely sparked the Colonials this season, as they have won seven of their first eight Northeast Conference (NEC) games. Fans can often see Josh and Jon laughing with each other in the closing seconds of games where the Colonials have pulled away. But, with every pair of brothers, there are lessons that are learned and chances to help each other improve.
"Having that competition and that sense of wanting to be the best or better than each other got us to where we are now," said Jon about the pair pushing each other this season.
There is nothing more competitive in basketball than a game of one-on-one. The two athletes are confident that they could take the other one down, although nobody likes to admit that they would lose to their brother in anything.
"There's no way Jon is beating me," said Josh.
Coach Toole agreed with Josh.
"Josh would win the one-on-one game. I think if Jon could turn it into a little more physical affair or maybe some more fouls and live in the gray a little bit, I'd think he'd have a chance," said Toole with a smile on his face. "It would be heated and there would be some arguments going on."
Like any competitor, Jon did not back down. He seems to be pretty confident in his own game.
"I don't know if Coach Toole was in his right mind when he said that, but I think I take it," said Jon with a huge smile on his face.
The Williams brothers, along with the rest of the Robert Morris Colonials will stay in Moon Township on Thursday night when the Colonials host the St. Francis (PA) Red Flash (8-11, 4-4 NEC) at the Student Recreation Center at the North Athletic Complex.