Kushneriuk krushes cancer and keeps dream alive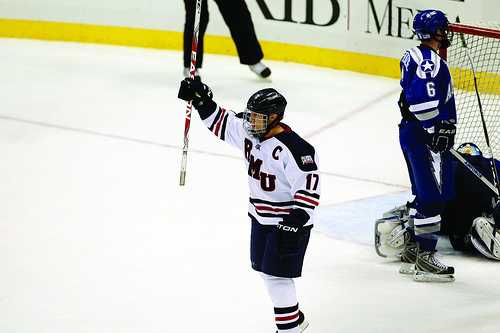 Since being diagnosed with Stage 4 testicular cancer on June 19, 2012, former Robert Morris University NCAA men's hockey captain Chris Kushneriuk has been through a whirlwind of emotions.
After being cleared to play hockey on July 20, 2013, Kushneriuk knew he wanted to be back at RMU with his former team.
"This is where I wanted to be, and this was where I was hoping I would end up," said Kushneriuk. "I'm able to come here, get a great education and be around a great group of people and be involved in the community, and help with the hockey team.  That's the stuff that I've dreamed of, and I'm living my dream right now."
Head coach Derek Schooley supported Kushneriuk's decision to return to RMU.
"He came back for the alumni weekend and was here for a week and we started discussing it around there," said Schooley. "He's got such a positive attitude and we thought it would be great for our hockey team to have him around and learn from his experiences and for them to know not to take anything for granite and treat every day like it's your last."
Kushneriuk has also noted that he is starting to feel better each and every day.
"I can almost completely forget about what I've been though, but my energy is really good," explained Kushneriuk.  "I feel like I'm getting a lot stronger.  I guess I'm just making strides every day."
Having Kushneriuk back at practice has been very beneficial to everyone, especially senior captain Colin South.
"It's incredible to see him healthy.  It's a pleasant surprise because he had such a huge task ahead of him, it was such an uphill battle," said South.  "So the fact that he is back healthy is incredible."
Kushneriuk has also served as a mentor of sorts for South.
"Dating back to when I played with him when he was a senior, he was a great captain and a great leader," added South. "He just gives me little bits of advice every so often, and he helps keeps things in perspective for me."
For everyone other than the senior class, having Kushneriuk at practice was a new experience.  It was up to guys like Colin South to talk about just what kind of leader Kushneriuk was and can be.
"We told them what a great leader he was and what a great player he was," said South.  "I think they've been able to witness it themselves with him practicing with us, so I think anything we've told them, they've been able to see themselves."
Sophomore forward, David Friedmann is now able to experience firsthand what kind of person Chris Kushneriuk is.
"All I knew was what Zach Hervato told me told me last year on the road.  He always spoke about Kush and how strong he was and about everything he was going through and how optimistic he was," said Friedmann.  "I was pretty much living vicariously through   When he came here, it was the first time I really met him, and it was awesome.  Just seeing him and seeing his presence about how happy he is about life was amazing."
For Kushneriuk, he knows he's fortunate to have the hockey community supporting him, and with their support he knows he can only get better from here.
"The thing about hockey players and the hockey world is that it's so interconnected.  You seem to have a relationship, or a connection with all of them somewhere down the line, so it's very easy to get along with them. They really welcomed me," said Kushneriuk.  "They all know my story and I'm looking forward to learning more of their stories.  It's not necessarily about me, it's about them and everyone around me."
About the Contributor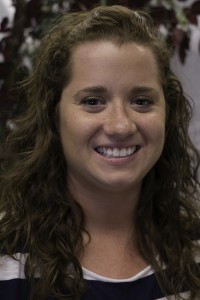 Brooke Smith, Editor-in-Chief
A senior journalism major at Robert Morris University, Brooke serves as the Editor-in-Chief and a staff writer for RMU's student-run newspaper, "The...