Lady Colonials say goodbye to seniors in winning fashion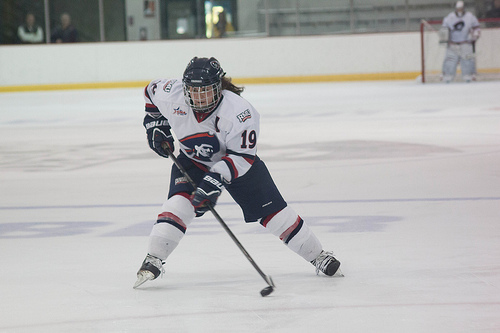 The RMU women;s hockey team looked to finish its season on a high note, putting its 12-5-2 CHA conference record on the line against the PSU Nittany Lions.
This contest was also the last home game for seniors Anneline Lauziere, Kylie St. Louis, Kristen Richards, Thea Imbrogno, and Brandi Pollock.
"We are all going to miss being here, me especially," said Kylie St Louis, a long time defenseman of the Colonials. "This has been my home here for the past four years and I have improved so much as an athlete."
Although both teams got off to a slow start in the first period, the Colonials were able to get the upper hand in the eighth minute when Rebecca Vint stole the puck and took it the length of the ice for a goal. Vint's goal was the first of four for the Colonials and the 23rd of the season. Vint broke her single season record with the tally.
"The goal itself was amazing and I didn't really know that I broke the record until the ref said that we need a new puck," said Vint.
The second period seemed to be slower than the first. Both teams were playing aggressive defense and some fans were questioning the excitement until Brittany Howard broke free from the pack and sent the puck to the net.
With Howard's help, the Colonials went into the locker room with a 2-0 lead at the intermission.
The Colonials were far from over as they came into the final twenty minutes looking to put this one away. With the help of two power plays in the period, RMU was able to put two more points on the board.
The first came in the seventh minute by Meave Garvey who tallied her eighth goal of the season. The second came in the 18th minute as Ashley Vesci flung the puck to the back of an empty net. This goal was Vesci's sixth goal of the season and the finale of a 4-0 shutout by the Colonials.
Jessica Dodds contributed to this shutout by stopping all 22 shots that came her way.
With this win, the Colonials get a two game sweep over the Nittany Lions and enter CHA tournament with first round bye.
"It is a great feeling to get back-to-back wins and in the final two games of the season," said head coach Paul Colontino. "These wins will serve as a great motivator for the team going into the tournament. They have a tremendous job up to this point and we just have to keep pressing on."