Robert Morris freshman forward Matthew Graham started skating in a rink that his dad built in their backyard in Bedford, Nova Scotia when he was three or four years old. This is considered to be a late bloomer in this sport.
Then when he turned five, he started to play minor hockey.
While growing up, he liked to base his game off of players such as Martin St. Louis, who put in a lot of work to get to where he did in their career.
Many years passed and next thing that Graham knew, he was being contacted by a junior hockey team, the Langley Rivermen. "(Playing for Langley) was a huge stepping stone," said Graham.
Story continues below advertisement
Langley is in the British Columbia Hockey League (BCHL) and is the entire way across the country of Canada — a seven-and-a-half-hour plane ride away from his family back in Bedford. But after two years and 47 goals in juniors later, Graham was ready once again for the next step in his career.
This was to find a college to play for in the upcoming winter. Graham said it was an "exciting time." He talked to a few schools and decided to settle here in Western Pa., at Robert Morris University.
After losing talents such as Zac Lynch and Greg Gibson at the end of last year, players that can score goals and put up numbers to help win games were at the top of the list for the Colonials.
"The hockey program has had a lot of success here the past few years and I wanna be on a winning team," said Graham.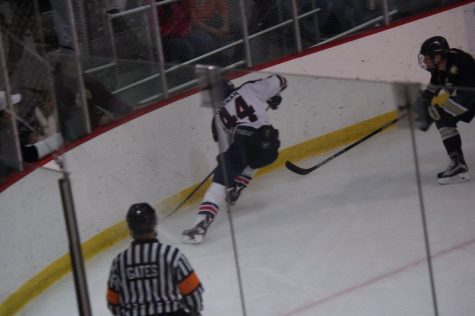 A business management major, Graham showcased his ability to put the puck in the net in RMU's exhibition match-up against Queen's University. Not only was it the first goal of the game. It was also Graham's first goal on the collegiate ice.
The goal was also the first scored for Robert Morris this season, albeit an exhibition game. "It was a cool feeling, seeing the band right there…It was kind of like a college feeling that I've never gotten before," said Graham.
Graham said he just hopes to chip in wherever he is needed. And so far this season, he has done just that.
Through six regular season games, Graham has one goal and one assist, which is good enough for a tie for sixth on the team in scoring. His first official goal came against Canisius on Oct. 21 in a 6-2 loss.