MEN'S BASKETBALL PREVIEW: New year, new team
Robert Morris University has seen its ups and downs of various basketball seasons. The team has made it to the "Big Dance" and then promptly gone 12 games under .500 on the ensuing season in the last two years. But this year could spell an outlook that RMU hasn't seen in a long time, if ever.
One could credit that to a number of new faces on the rosters — others to head coach Andy Toole's greatness as a leader.
Over the six years that Toole has been the head coach of the Colonials, his record is 120-87. The most impressive part of the record is that he is 73-33 against Northeast Conference opponents.
Along with better-than-average overall records, Toole has had marvelous post-season success.
He has managed to bring home two NEC regular-season championships and four NEC tournament championship game appearances. Toole's success goes beyond conference play, though. He has shown time and time again that he is capable of leading this team to a new standard of play.
Toole's high-intensity coaching style is what suits this year's bunch of guys because this is a team that should thrive off of tenacity. This group of players is tough and should handle any challenge thrown at them.
With a mix of transfers and incoming freshmen, a number of new team members have reached a considerable total. For a team that lacked in size last season — its tallest player was a generous 6-foot-9 — RMU filled that void in a big way. This off-season, the Colonials added 6-foot-11 big man Braden Burke to the now 15-man roster.
In his senior year at Lakeshore High School in Michigan, Burke led the Lancers to a 20-8 record and the Class B state championship game. In doing so, he averaged 19.4 points per game, along with an impressive 12.2 rebounds. If the numbers don't impress, just take into consideration that he was a nominee for McDonald's All-American honors.
He's certain to bring a spark to a Colonials offense that struggled for large stretches last season, not to mention being a constant shot-blocking presence down low.
Roberto Mantovani is a name not known to a lot of people. However, in the collegiate basketball world, people know him as the transfer from Cuesta College. The numbers, though less than Burke's overall, can be looked at in a collegiate setting — an experience that Burke has yet to encounter.
Mantovani averaged 15.5 points and 11.0 rebounds per contest. He is extremely efficient with the basketball, as he converted on roughly 49 percent of his shots. Mantovani brings it on both ends of the court, which should be no surprise for a man that said he loves to yell and be vocal on the hardwood.
In an interview recently, Mantovani said one of the reasons he came to Moon Township was because the coaches would allow him to be as loud and as vocal as he wanted to be on the court. With his voice comes toughness and leadership.
Leadership is something that left this program in the off-season in the form of Rodney Pryor. A crucial part of the offense, Pryor left somewhat of an opportunity for senior point guard Kavon Stewart. Last season, Stewart led the team in assists with 145.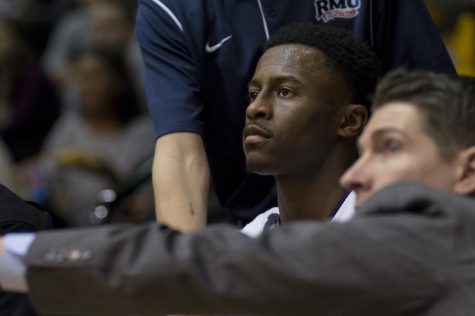 This year, he is going to have to lead in something else on top of that. In his last year of eligibility, it will be on Stewart to lead this team to the Northeast Conference title and beyond.
Stewart will have help in the backcourt, coming in part from sophomore guard Matty McConnell. McConnell is mostly known for brother — NBA guard, TJ McConnell — but this isn't necessarily a bad thing when it comes to the game of basketball. The sport is in his blood and his game goes beyond more than sibling relations.
McConnell, an Oakdale native, is a player with a very diverse playing style. He led the NEC in steals per game (1.97) last season, and he is also capable of putting the ball in the basket from wherever on the court. McConnell can shoot the rock just as good as anyone on the squad; and much like Stewart, McConnell can drive to the lane.
He will have help, as there are 14 other capable players on the roster. Several said players have been with the program for multiple years, including redshirt senior Aaron Tate.
With a season ended entirely too early by an injury, Tate earned medical redshirt status and is back and ready to prove something; that is why he's on the squad. At just 6-foot-5, the forward is undersized for the position.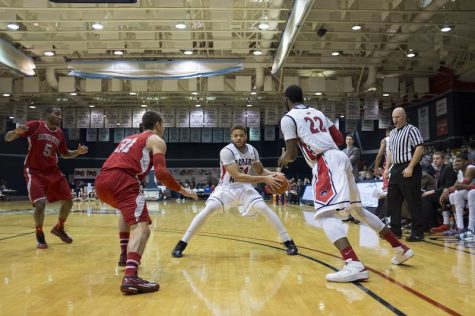 Though his numbers don't pop out on a stat sheet, Tate makes up for it in non-measurable plays. His tenacity in the paint on offense and defense, natural rebounding ability, and uncanny ability to be in the vicinity of the ball wherever it is on the court serves as proof as to why he was named the team's MVP in the 2014-2015 season.
This is an RMU team that has never been seen before, in many facets. This Colonials team lacks a standout superstar but makes up for it with a bunch of solid players. These players are looking to complement each other and work as a unit to take Robert Morris to new heights.