Men's Soccer Preview: The Post-Neco Brett Era
Neco Brett is gone.
And as quickly as people will soon forget about him, he will go down as quietly one of the greatest athletes to come out of Robert Morris University.
Even in a down year statistically throughout his senior season, Brett led the Colonials in goals, assists and points. Led by the MLS midfielder for the Portland Timbers, RMU earned a 10-8-1 (4-2-1 NEC) record in 2015. Though, that was only good enough for a tie for third place.
This year, coach Bill Denniston is looking for collaborative help from the entire team to fill the large void Brett left them.
"I hope he (Puntillo) can do a little more," said Denniston.
Denniston also stated that he doesn't plan to change the system of play the Colonials used last year, which could best be described as a 4-3-3 with Brett serving as the attacking forward.
He not only expects the entire team to step up and carry the load, but particularly the two captains chosen by the team this year. Juniors Keane McIvor and Jake Cooper, both midfielders, will add stability and movement to the attack and create chances.
"The guys we have returning in the midfield are gonna have to do a little more offensively this year," said Denniston.
In this post-Neco-Brett era at Robert Morris, some of the offensive firepower they need could come from sophomore midfielder Lucas Puntillo.
Puntillo scored five goals last year, while leading the Colonials with six assists. He earned Northeast Conference rookie of the week honors in October 2015, and he played in all 19 games for the team.
This past offseason, Puntillo went back to his home in Ontario, Canada and played there to better prepare himself for the upcoming season. His club team, Vaughan Azzuri, had a nice start to its season, thanks to his efforts.
When asked about losing Brett last year, Puntillo also agreed that it would be a team effort, to try to replace the goalscoring of the 2015 second-team All-American. "Neco is one of a kind," he said.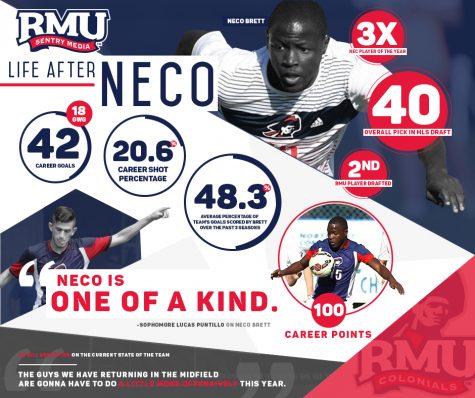 There are 17 total games on RMU's schedule, including two key rivalry games against Duquesne University and the University of Pittsburgh. Both of which should draw quite the crowd and atmosphere.
Last year when Duquesne played RMU in a non-conference matchup, the Colonials beat the Dukes two to one in double overtime. The goals came from Puntillo and Junior Forward Rafael Bruzual.
However, according to Puntillo, you have to make the conference games count.
"All of our conference games are huge games," he said. "In particular this weekend against Cleveland State. Last year, it was a very interesting game. " The Colonials scored four goals on just five shots when the teams met in 2015.
When Lucas Puntillo was asked about their first upcoming game Friday against Niagara, he said "We need a win, nothing less."