Mike Cook: Commander of the RMU defense
The most noticeable improvement on the RMU defense this season has been the play of middle linebacker Mike Cook. The redshirt senior is coming off of a 2012 campaign in which he led the team with 88 tackles, but he's entered this season guns blazing.
"I just tried to steady up my pass game and get a little faster this offseason," said Cook.
Obviously, whatever he did worked.
Cook is coming off of a career-best effort against Dayton, where he racked up 19 total tackles, tying assistant coach Alex DiMichele for third highest all time within the program.
He's currently ranked fourth in D1-FCS in tackles (38), and fifth in tackles per game (12.7).
At this point last season, Cook had 15 less tackles, exhibiting just how much improvement he's shown throughout the early stretch of the season.
Cook's play has been dominant this season and he's continued his role as a crucial member to the Colonials' defense. His presence alongside redshirt senior Kyle Cooper, and junior transfer Mike Stojkovic has solidified the linebacker position for RMU during its first three games.
"I'd say the defensive line and outside linebackers have helped me out a lot this season. They've made it so that Kyle and I just have to run around and make plays," said Cook.
Stojkovic has been a solid addition to the defense as well, and credits Cook, a former Winona State transfer himself, to helping him transition to life at RMU after coming from North Texas.
"Mike and [Coop] have helped me a lot, especially since I first got here," said Stojkovic.  "They've set such good examples both on and off the field."
The middle linebacker is looking to continue his success heading into this weekend's matchup with Virginia Military Institute, and stressed the importance of defensive coordinator Scott Farison to his stellar play.
"Coach Farison and the defensive staff have made sure I knew more about the playbook this year than I did last year, so when you know what you're doing, you can play a lot faster." said Cook.
The feeling is mutual between Cook and his coordinator.
Farison noted the visible improvement he's seen in his defensive leader, emphasizing the notable differences between this season and last.
"It's been a lot of improvement. He came off a season last year where he did well, but we talked all through the spring about him taking more of a leadership role this season," said the 12-year assistant coach. "So far in the first three games, he's played great and is making plays where he might have been a step slower last year."
Farison could not deny how impactful Cook's presence in the middle is to the success of the RMU defense.
"His presence is important. Everything we do as a defense is really gap-oriented, and he's been in the middle there to clean everything up," he said.
Cook is on pace to shatter the RMU single-season tackling record of 116 also set by DiMichele. If his play stays at this rate, he is projected to record 139 tackles on the year, marking his name in the RMU record book.
If the defense can continue to back up their stud in the middle, it looks as if Cook is on the brink of history.
About the Writer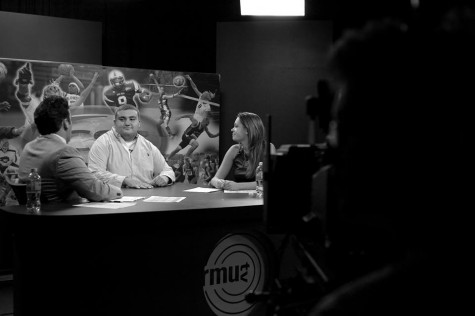 Chris Mueller, Sports Reporter
Chris is a junior Communications major at RMU with an applied concentration in journalism. He is Sports Editor for RMU Sentry Media.  As current Sports...