Mike Stojkovic's road to Moon Township
An exclusive feature following the journey of Mike Stojkovic to Robert Morris and the imprint he's leaving on the football program
Mike Stojkovic is the image of any defensive coordinator's ideal middle linebacker.
He's strong enough to knock a 300-pound guard four yards deep into the backfield, yet fast enough to pursue CCSU's Rob Hollomon sideline to sideline.
He's a leader that plays with a mean streak, evident by watching any single Robert Morris football practice, whether it be the fifth day of preseason or a Friday walk-through. He's the first guy calling out another player for not giving full, 100 percent effort in conditioning.
Stojkovic transcends the typical football player groomed in Texas; he eats, sleeps, breathes and most noticeably, lives for the game.
In what looks to be the final two season's of his collegiate football career, Stojkovic isn't holding anything back, and his presence smack dab in the middle of a young Robert Morris defense has reaped great rewards for not only his team, but a fellow linebacker looking to follow in his footsteps.
An Unlikely Destination
It was a long road for Stojkovic before he arrived in Moon Township prior to the 2013 season.
Stojkovic played quarterback at Katy High School of Texas, leading the Houston-area school to a 2009 state title game after throwing for 1,287 yards and 13 touchdowns. He earned second team all-district honors, but wasn't set on playing quarterback.
Stojkovic then took his talents to the suburbs of Philadelphia after high school, completing a post-grad year at Valley Forge Military Academy in which he racked up 147 tackles and four interceptions in one season. This led to a commitment to North Texas, where he started nine of 12 games during the 2011 campaign while totaling 48 stops, two sacks and a forced fumble.
The freshman linebacker recorded a team-high eight tackles against then No. 2 Alabama on Sept. 17, when Trent Richardson was the Crimson Tide's running back. Stojkovic was a young, up-and-coming star within the Mean Green defense, and if nothing else, the kid could ball.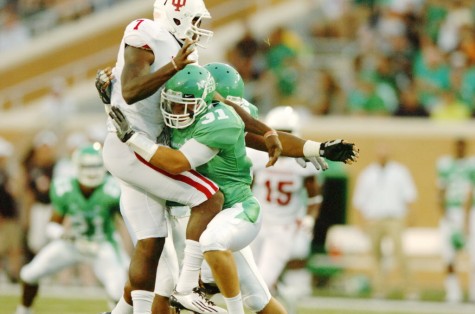 However, off the field issues stemming from a January 2012 bar fight put a sudden halt on his career.
Stojkovic pled no contest to two misdemeanor assault charges in September 2012. It was announced by head coach Dan McCarney that he would sit out the 2012 season but would still remain and practice with the team. He left the program under his own terms later that year, looking for another chance elsewhere to begin a fresh start.
That's where head coach John Banaszak and Robert Morris came into play.
Stojkovic took five official visits and eight unofficial visits to several Division I programs following his departure from North Texas. It ultimately came down between Syracuse and their head coach at the time, Doug Marrone, and Robert Morris, with Banaszak and defensive coordinator Scott Farison primarily recruiting him.
Due to NCAA regulations, he would have to sit out a year had he transferred to another Division I school. The convenience of being able to play right away in Moon Township attracted Stojkovic, but a different key factor ultimately led him to his decision.
"At other schools I was told if I missed class I was off the team. It was kind of like I wasn't going to be given a second chance," said Stojkovic. "Coach [Banaszak] was the only coach that looked me in the eye out of everybody that I got recruited by and said he wasn't going to hold what happened to me over my head."
A second chance was all he needed.
A Blessing in Disguise
What an adjustment it was coming from a Division I program in the football-crazed state of Texas to a small FCS program in the west hills of Pittsburgh, where local Moon High School attracts larger crowds than a RMU home game.
The Colonials were in a transition period in 2013 with former 20-year head coach Joe Walton gearing for his retirement at season's end. It didn't really feel like college football for Stojkovic at first, and it seemed as if his final season of football would not be what he pictured when he began his career at North Texas.
During his first preseason at Robert Morris, Stojkovic broke his foot. How unlucky for the outside linebacker, especially considering everything he'd been through to reach that point. Staying true to his Texas roots, he tried to play through the injury for the first four games in 2013, but could tell something was missing.
"I didn't realize how bad it was affecting me until I looked at the film," he said. "My adrenaline was going. I didn't realize I wasn't able to play as fast."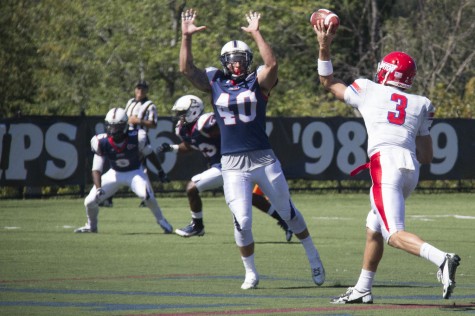 That's when he sat down with defensive coordinator Scott Farison and came to the conclusion that his best move was to sit out the rest of the season as a medical redshirt, granting him an extra year of eligibility in 2015.
"Obviously once I was sitting out, I realized that was probably the best thing that happened to me at the same time of it being the worst because of the injury. I was able to be next to [Coach] Farison every day, and be in the headset when I was on the sidelines. I really could see the game from his eyes."
Banaszak's new vision of the program appealed heavily to Stojkovic. He took in all he could from the sidelines in 2013, and learned more about the defense from a coach's perspective. After the 2013 season ended, Banaszak met with the rising senior to lay out his expectations for the following year.
"Knowing what I knew about what Coach Banaszak wanted to do with the program, I felt that I needed to take it to the next level," said Stojkovic. "Coach [Banaszak] sat me down in his office and told me what he expected of me, and I took it all from there."
Stojkovic switched from outside linebacker to middle, emerged into a leadership role and most importantly became the vocal leader the defense was lacking through spring ball heading into the upcoming season. His defensive coordinator took notice.
"Mike's a guy that comes out here and works hard every week, the other guys see that," said Farison. "They don't want to tick him off because he'll be the first guy that says something to them."
The Bond Ignites
Backtrack to the early stretches of the 2013 preseason, while Stojkovic's learning a completely new defense on a broken foot in a small town far away from home. A lanky freshman on the scout team defense catches his attention.
Nic Lamica, a 6-foot-4, 210 pound linebacker from the blue collar town of Grand Rapids, Mich. is making a name for himself against the starting offense. Stojkovic sees potential in the freshman, even maybe a little flashes of himself, and takes notice.
"Nic was the first kid I met when I came up here," said Stojkovic. "I came up about four days early to camp and him and couple freshman were up here. From the beginning, I've kind of took him under my wing."
The pair didn't take long to mesh, or show their competitive nature.
A few days into being teammates and fellow linebackers, the rook challenged the vet to some 1-on-1 basketball. Stojkovic accepted the invitation immediately, reminding Lamica the hard way of the old adage in college football to always respect his elders.
"The third day I was with him, he tried calling me out in basketball," said Stojkovic with a laugh. "I beat his ass but I still realized how athletic he was. I definitely handled him pretty easily though."
Their bond grew stronger while spring ball was upon them, both on and off the field. Banaszak was in charge and the changes were drastic. Lamica, now a redshirt-freshman with four years of eligibility remaining, could see the differences from year one to year two.
"Everything got a lot harder for everybody," he said. "The people who really wanted it stayed, and the people who it really wasn't their thing, they were shoved out."
Stojkovic and Lamica spent a lot of time together over the spring and summer months gearing for the upcoming season. Banaszak brought them excitement for the future, which served as an extra edge from a preparation aspect of the offseason.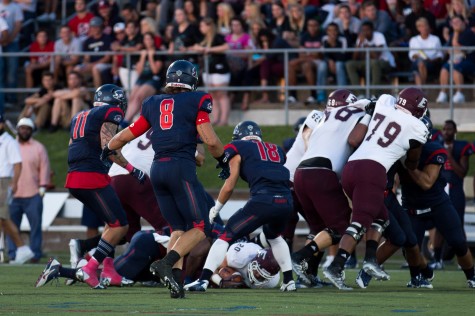 "Obviously, we're in the weight room a lot. Mike just helped me getting stronger, faster, and doing a lot with the playbook," said Lamica. "I really just matured a whole lot compared to last year. Mike's helped me out a little bit. Maybe we're in meetings and last year I'm talking, this year I'm sitting up front with Mike and he's giving me tips I can work on, things I can do better."
They worked out together in the summer as much as they could. Stojkovic was a bit limited from tearing a pectoral muscle in winter workouts, and Lamica was busy working long hours at Home Depot as a summer job. However, they still made the time, focusing on the playbook and monitoring their nutrition closely.
Now, the constant hard work is beginning to pay off dividends for the linebacking duo.
In Robert Morris' Week 1 game against Eastern Kentucky, Lamica led the defense with 14 tackles and an interception, while Stojkovic was right behind him with 13 stops. They are quickly becoming the Mike Cook and Kyle Cooper of 2014.
"We've been looking forward to playing next to each other since the spring," Stojkovic said. "From the spring, I've taken more of a coaches perspective to help [Nic] out. I know what type of athlete he is. I know his strengths and his weaknesses so I'm just trying to help him get those strengths stronger and those weaknesses better."
Both of them will be relied on heavily as anchors of the Colonial defense throughout the rest of the season. As the young Lamica is on pace for a breakout year, the mentorship of his 'older brother' in Stojkovic will not go unnoticed.
About the Contributors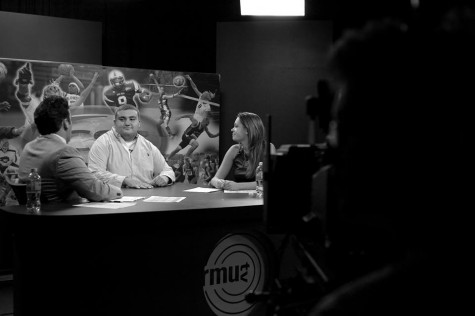 Chris Mueller, Sports Reporter
Chris is a junior Communications major at RMU with an applied concentration in journalism. He is Sports Editor for RMU Sentry Media.  As current Sports...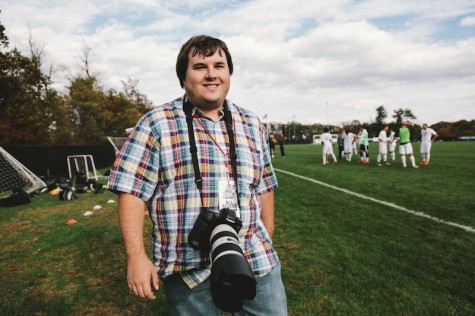 Kyle Gorcey, Freelance Sports Photographer
Kyle is a senior Communications major with a concentration in journalism at Robert Morris University who is a writer and sports photographer for The Sentry. The...