Minnesota twins made journey to RMU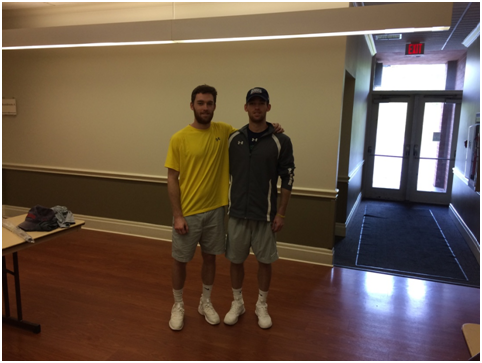 Twin lacrosse players Conner and Carter Yepsen made the long journey from the town of Rosemount, Minnesota to Robert Morris University. The midfielders are now juniors at RMU.
Conner and Carter said they started playing lacrosse in fifth grade. They said that they also snowboarded and played football, baseball and soccer when growing up. Carter talked about why he and Conner eventually chose lacrosse over the other sports.
"I'd say lacrosse is something that we both excelled at, and you don't necessarily need to be a big, strong kid to play lacrosse at a high level," Carter said. "We both liked football a lot, and we both did pretty well at that. But playing that at the next level can be a lot more dangerous, and you usually have to be a lot bigger to play at a higher level. So, lacrosse just seemed to fit us the best."
Conner said he got excited about lacrosse shortly after he started playing.
"For me, I think lacrosse was such a new sport when we first started playing," Conner said. "It was pretty addicting, and it was pretty fun to practice. So that made it easier to fall in love with the sport and really work hard to try to get to that next level."
Conner talked about when he and Carter first heard from RMU and its head coach, Andrew McMinn.
"At the end of our junior summer is when we first heard from RMU," Carter said. "I did a tournament, and Drew (McMinn) sent me an email. And then we visited toward the end of July. And after the visit, we both committed to Robert Morris."
McMinn talked about when he first met the twins.
"I first came across Carter and Conner in the recruiting process at the Baltimore Summer Kickoff, an event that draws club teams from around the country," McMinn said. "Carter and Conner were playing for Minnesota Elite, the first competitive club organization from the state of Minnesota. I had a relationship with the coach and owner of the club, so I was able to get trustworthy feedback on who Conner and Carter are as people."
Carter talked about the difficulties of making the long trip from Minnesota to RMU for a campus visit.
"I heard from Drew (McMinn) quite a bit," Carter said. "He called me a few times, just because making it over in person was a bit difficult, with having to fly. Flights aren't always the easiest and cheapest. But we definitely stayed in contact that whole summer before the visit."
Conner talked about why he and Carter chose to commit to RMU.
"I think it was a good fit academically, and the style of play they play here seemed to be a good fit as far as how we play," Conner said. "We like to play a fast-paced offense, and there seemed to be a real good family atmosphere on the team."
McMinn talked about what he saw in the twins that impressed him, including the fact that they were multi-sport athletes.
"Outside of evaluating talent and athleticism, we look for certain characteristics we feel a player should embody," McMinn said. "Carter and Conner both displayed these traits within their play. In addition, we came to find out that they were high-level high school football players. Although it is not a priority in our recruiting, we definitely feel that it is added stock when we recruit student-athletes who have a strong background in other sports as well."