Monmouth blows out Robert Morris on Homecoming
The weather in Moon Township on Saturday nearly depicted how the entire day would turn out for Robert Morris (0-5) against Monmouth (4-1).
After a terrible hail shower pelted Joe Walton Stadium and tailgate alley just before kickoff, an even greyer cloud continued to hover over the entire RMU football program as they were defeated by the Hawks 51-20 on Homecoming day.
"I'm surprised," said head coach John Banaszak after the loss. "I thought we were ready to play a game where we weren't going to shoot ourselves in the foot."
Redshirt-sophomore quarterback Derik Abbott was sacked seven times in his first career start, and finished 16-of-28 for 163 yards with two touchdowns and two interceptions. The dog days continued for the RMU offense, unable to score a single touchdown until midway through the third quarter. The unit committed six turnovers on the day, with four fumbles to go along with the pair of Abbott interceptions.
"I thought we had a good gameplan, but we just didn't execute," Abbott said. "At the end of the day, it just comes down to executing and doing your job. Me personally, I don't think I played well enough to win. The offensive struggles I take on myself more than anything."
The Monmouth front four was too much to handle for an undersized RMU offensive line, and Abbott took a beating because of it. It definitely affected his decision making.
"Obviously, we're not performing where we should be on a consistent basis up front. It certainly hurts us," said Banaszak. "[Derik] has also got to have that clock in his head and get the ball away, there's more to it than just the offensive line."
The Hawks moved ahead early out of the gate, going ahead 14-0 in the first quarter on two scores from running back Lavon Chaney. The senior back finished with 113 yards on 22 carries.
With the RMU offense stalling, Monmouth tacked on two more field goals to increase the lead to 20-0 at halftime.
After a Monmouth field goal to begin the third quarter, quarterback Brandon Hill connected with stud wideout Neal Sterling for a 31 yard touchdown to make it a 30-0 game. By that point, the contest was already over and Robert Morris was in damage control mode.
They did manage to score some points with touchdown receptions from receivers Duane Mitchell and Sean Gavin in the second half.
Freshman tailback rushed for 154 yards on 24 carries. He was limited in practice during the week due to a nagging shoulder injury, but showed flashes of good things to come.
Linebackers Mike Stojkovic and Jake Tkach led the RMU defense with nine tackles a piece. Defensive back Antwan Eddie did relatively a good job blanketing Sterling, a likely NFL prospect next spring, throughout the game. The one or two mistakes Eddie made resulted in big plays for Sterling, who ended with 144 yards on just five receptions.
Robert Morris now starts Northeast Conference play with a trip up to Sacred Heart next weekend. SHU is coming off a huge upset win at No. 24 Delaware this weekend, so it doesn't look to get any easier for the young Colonials.
About the Writer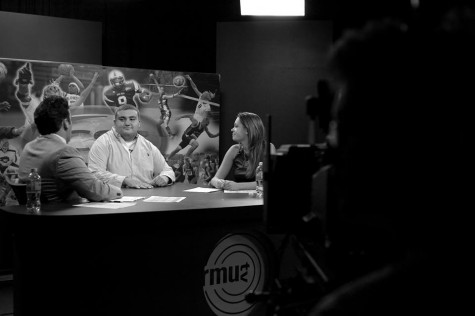 Chris Mueller, Sports Reporter
Chris is a junior Communications major at RMU with an applied concentration in journalism. He is Sports Editor for RMU Sentry Media.  As current Sports...