NCAA men's hockey hosts annual golf outing
The Robert Morris University NCAA men's hockey team hosted their eighth-annual golf outing on Friday, Sept. 6, at the Allegheny Country Club in Sewickley, PA.
"It's really the kickoff to our season.  We do this every year, this is our eighth straight year of having this event," said head coach Derek Schooley. "We had four years at Quick Silver, this is our fourth year at Allegheny Country Club, and it really gets the hockey community together."
While the event is in large part a way for the men's hockey team to raise money, it's also a great way for the players to interact with some of the teams biggest supporters.
"We have a lot of youth hockey coaches.  We've got a lot of people that are associated with the program, a lot of supporters and a lot of our alumni back," said Schooley.  "It's good for our current players to hang out with them and see the excitement behind our hockey program."
One of the golfers was RMU President Dr. Gregory Dell'Omo.
"It's important to be able to support all of our events that we have at the university," said Dell'Omo.  "It's not just the money, but people coming out, and really supporting the games, and supporting the players and the coaches."
Another much welcomed face was that of Chris Kushneriuk. On Aug. 6, Kushneriuk announced over various social media accounts that he has been cleared to play hockey after battling Stage 4 testicular cancer over the past year.
"It feels fantastic.  I was actually thinking about this moment for the last year or year and a half now, so it's just great to be reacquainted with everyone and actually to give thanks to everyone that helped me out and helped out with my cause," he said.
For Kushneriuk, this was the first time that he's been able to see most of the people that have supported him since he was diagnosed last summer.
"It's fantastic to be back.  I'm not sure when I'm going home," he said. "Hopefully I'll stick around here for a little while longer, and train, and skate with the guys, but it's really nice to be back."
This year, there were 127 golfers that made up 32 groups.
"It's got better and better every year.  I remember when we started our first year at Quick Silver, we were hoping for 15 groups, and now we're up to almost close to sold out," recalled Schooley. "It's really a great event for our team and we raise a lot of funds to help our players and do some special things with the money we raise and it all goes to our hockey program, and we use it as the major fundraiser for our team."
Up next for the men's hockey team will be their first game of the 2013-2014 season when they play an exhibition contest on Oct. 6 at 4:05 against Toronto at the RMU Island Sports Center.
About the Contributor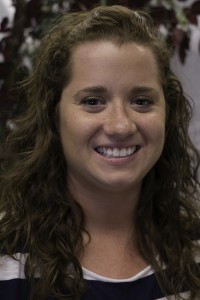 Brooke Smith, Editor-in-Chief
A senior journalism major at Robert Morris University, Brooke serves as the Editor-in-Chief and a staff writer for RMU's student-run newspaper, "The...