NCAA men's hockey names captains for 2012-2013 season
With the start of a new season comes the announcement of a new captain for the NCAA men's hockey team.  Taking over as captain will be senior defenseman, Brendan Jamison with defenseman, Tyler Hinds, serving as the assistant captain.
They learned of their newfound roles about a week after the year-end player evaluations had ended.  "Coach Schooley told Brendan and I the news about being given the leadership roles and we discussed new plans that we would like to introduce over the summer," said Hinds.  "About two days later it was announced to the team at our year end awards and summer compliance meeting."
Both Hinds and Jamison are honored to be named to such a high leadership position.
"I was pretty surprised. We have a great senior class and all of the guys have strong leadership qualities, so I think it could have been anyone," said Jamison.
This will not be the first time Hinds has been in a leadership position.  He was also an assistant captain on numerous minor hockey teams and in his final year playing junior hockey with the Nepean Raiders.  Hinds also will be entering his third year in RMU's Colonial Leadership Academy.
"I was quite thrilled to be named assistant captain," said Hinds of his newfound leadership role.  "It is always nice to be recognized by your teammates as a leader."
Last seasons captain, Trevor Lewis, believes both Jamison and Hinds will do well in their leadership positions.  "Brendan is a great team guy, he is not afraid to do the dirty work and leads by example," said Lewis.  "All the guys really respect him including myself and he will be a great captain and leader."
"Tyler is a great vocal leader and knows when to say the right things. He also does a great job of keeping everyone relaxed and excited about coming to the rink everyday," said Lewis. "Both guys are really consistent and that is important for the rest of the team to see what it takes everyday to be successful."
Hinds also knows that he will be relied on heavily to lead by example on and off of the ice.  "I will continue to have an unrivalled work ethic and devotion to our team," said Hinds  "Being assistant captain does bring on several other responsibilities such as preparing captains practices at the beginning of the season, running our dynamic stretch before team training sessions, accepting responsibility for decisions made by our team during extra-curricular activities, and preparing the freshmen for college hockey."
Jamison knows he will have a multitude of responsibilities.  "I could list a hundred things that I would specifically be responsible for," said Jamison.  "But I think to summarize it I will say that I need to create and instill a winning culture on our team that promotes professionalism and accountability."
He also noted the fact that he spoke to Lewis and gained a good bit of advice,  "he said to be myself and don't change anything I've been doing."
Lewis wanted to add, "He should enjoy the honor of being a captain. He was voted by the coaches and team because everyone believes in him," said Lewis. "They will do a great job leading the team and I'm very excited for them."
About the Writer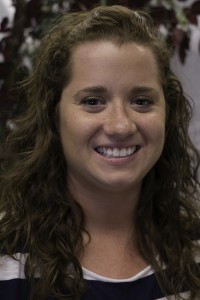 Brooke Smith, Editor-in-Chief
A senior journalism major at Robert Morris University, Brooke serves as the Editor-in-Chief and a staff writer for RMU's student-run newspaper, "The...