NCAA men's hockey team prepares for the College Hockey Showcase
The Robert Morris University NCAA men's hockey team will put their eight-game unbeaten streak on the line when they host the Ohio State University Buckeyes at the Consol Energy Center on Friday, December 30 at 7:35 p.m.
Freshman forward, Cody Wydo, is looking forward to his first opportunity to play at the home of the Pittsburgh Penguins.  "It will be a really fun and great experience for me," said Wydo.
Senior forward, Nick Chiavetta, has played in National Hockey League (NHL) venues before as a member of the Colonials, but he still loves getting the chance to skate at the Penguins home arena.
"Each time I'm able to have the opportunity to play in a place such as this is a dream come true and an unbelievable experience every time," said Chiavetta.  "Especially being a Penguins fan growing up, it makes it extra special to share this facility with them."
Although this is a home game, the Colonials pregame routine will be slightly altered due to the fact that they will be playing in downtown Pittsburgh.  "I will probably not be able to take as long of a nap as I normally do since I have to leave for the rink earlier," explained Wydo. "But for me, that will probably be the only thing that changes."
Chiavetta also does not anticipate his game day routine changing much.  "Once I arrive at the rink my routine is simple enough that I am able to get everything done that I need to," explained Chiavetta.  "One thing that does affect us has been the drive from Moon to Consol which can be an adventure at times."
The Colonials know that it will be important to get on the board early against No. 4 ranked Ohio State.  "I think that will be a big factor just like it is in any other game," explained Wydo.  "If we do score early, we still have to come out hard because the next goal will be even bigger."
Chiavetta recognizes that it is vital for the Colonials to start strong against Ohio State.  "It's very important in games like these because it would continue to boost our confidence and get us to settle down a bit as well with all the excitement," said Chiavetta.  "Because in hockey it's just as much mental as it is physical, and having confidence in yourself and your abilities can take you a long way."
The Colonials also realize this game is just like every other game this season and are preparing the same way they always do.  "We haven't really changed anything," said Wydo.  "We are preparing as if it was just another game in the season."
"We are taking this game in stride just as we have every other game this year no matter who we're playing," added Chiavetta.  "Especially this time of the year we are very confident in ourselves and feel that we can beat anyone at any moment and this is the perfect time for this opportunity."
About the Writer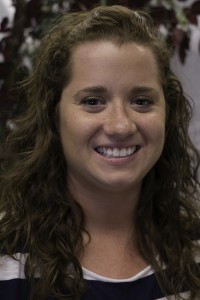 Brooke Smith, Editor-in-Chief
A senior journalism major at Robert Morris University, Brooke serves as the Editor-in-Chief and a staff writer for RMU's student-run newspaper, "The...