NCCA Tournament Preview: No. 1 Notre Dame vs. No. 16 Robert Morris
LOCATION: Toledo, Ohio
TIME: 1:30 Tip-off
OPPPONENT RECORD: 32-0, AP No. 2
TELEVISED: ESPN
Congratulations to Robert Morris women's basketball on winning the Northeast Conference Championship and earning a NCAA Tournament berth for the first time since 2008.
Now, go play undefeated Notre Dame in the first round, a team that's made final four appearances in three of the last four years.
Quite a reward from the selection committee, isn't it?
For senior Artemis Spanou and the Colonials, the opponent at hand is like nothing they've seen in any of their careers. If UCONN is the 1A of NCAA women's basketball, then Notre Dame is 1B.
Fresh off an ACC Tournament title in their first year in the conference, the Fighting Irish are rolling on all cylinders.
They're physically dominant, and possess the 2014 ACC Player of the Year in senior guard Kayla McBride, an Erie, PA native. She averaged 17.5 points per game this season and is a highly-touted WNBA prospect.
"I think we had a lot of different places, a lot of different venues, a lot of different environments and a lot of different teams," said McBride in an article posted by The Observer, Notre Dame's student newspaper. "So Robert Morris, they're in the tournament for a reason, and we can't take that for granted."
Notre Dame will bring a high-tempo, efficient offense to Toledo. They are the top ranked in team field goal percentage, while RMU holds opponents to a low 38.8 percent from the field.
Sophomore guard Jewell Loyd leads the Fighting Irish in scoring, averaging 18.5 points per game. Loyd was the USWBA Rookie of the Year selection a year ago.
For RMU, its going to be pivotal to control the pace of the game as much as possible. Notre Dame will look to run and beat the Colonials with speed, so freshman guard Anna Niki Stamolamprou has a huge role to play if Robert Morris wants the game to remain close.
Spanou will need to make her presence known, and will be most likely matching up with Irish senior forward Natalie Achonwa, a fellow international player hailing from Canada.  Achonwa averages 14.1 points and 7.4 rebounds per contest, and has two inches on Spanou standing at 6-foot-3.
Both teams have two common opponents this season, Duquesne and Virginia Tech. Robert Morris went 0-2 against both teams, losing to Duquesne 79-63 on Dec. 18 and 70-64 to the Hokies on Dec. 29.
Notre Dame beat both teams, thumping Duquesne 100-61 on Dec. 1 and then winning 74-48 over Virgina Tech on Jan. 30.
It's not very likely that the Colonials come out of this matchup with a win. But if they can keep it close in the first half, their 3-point shooting could possibly enable a late run to make it interesting.
"We want to represent the conference well," said head coach Sal Buscaglia. "I have to bring the team together and make sure they know we're not finished. We have to represent the conference well."
Spanou will need to play her usual game, and it's expected she will considering this could very well be her last game in a Colonial uniform. Stamolamprou, sophomore guard Ashley Ravelli and freshman swinger Rebeca Navarro will all need to be on from long range.
Freshman forward Cassie Oursler will need to keep up her consistent contributions and stay out of foul trouble, as she's Robert Morris' best matchup against Achonwa and the rest of the Irish frontcourt.
Making the NCAA Tournament is a huge accomplishment in itself for Robert Morris. But an extremely unlikely upset, or even just a solid performance against one of the nation's elite programs would make the end to this roller coaster season even sweeter.
About the Writer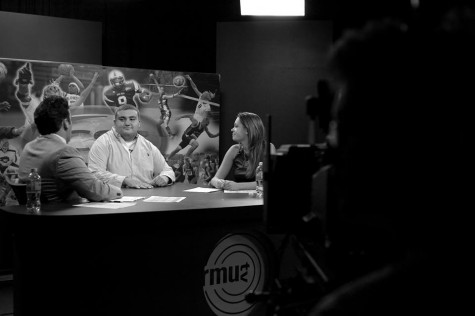 Chris Mueller, Sports Reporter
Chris is a junior Communications major at RMU with an applied concentration in journalism. He is Sports Editor for RMU Sentry Media.  As current Sports...