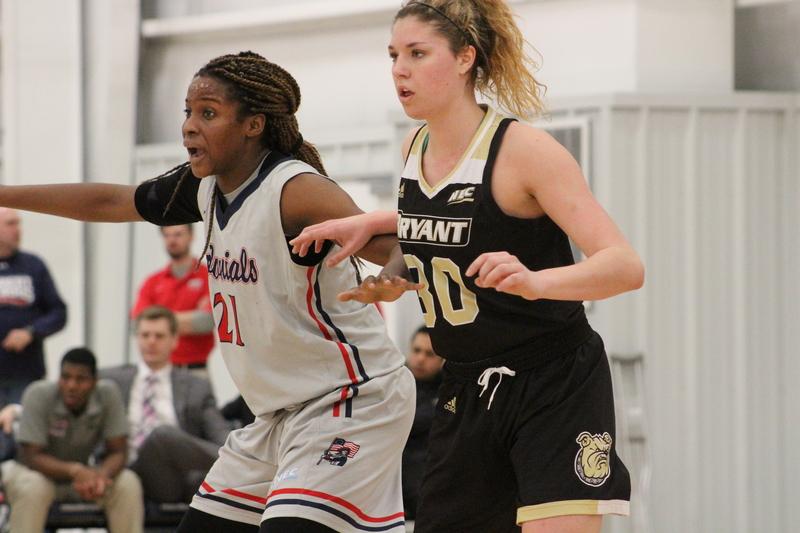 NEC semifinals preview: Colonials vs. LIU Brooklyn
Robert Morris who defeated Central Connecticut State in the quarterfinals of the NEC Tournament will take on the LIU Brooklyn Blackbirds as they defeated Saint Francis Brooklyn in their quarterfinal matchup.
The Colonials and Blackbirds will tip-off at 7:00 p.m. at the North Athletic Complex on the Campus of Robert Morris on Thursday.
Here is what you need to know for the semifinal matchup between the two NEC foes.
Previous Meetings
Earlier this season: RMU is 2-0 against LIU Brooklyn this season with a 60-53 victory back on Jan. 6 at PPG Paints Arena and a double-digit win, 55-44, roughly a month ago on the Blackbirds home court. The Colonials used that game to propel to a 10-1 NEC record and LIU Brooklyn moved to 5-7 in conference play after the loss.
Who to keep an eye on:
There are a few players for both teams that stand out as players of focus heading into this semifinal contest.
One of these players for Robert Morris is the sophomore center and newly announced NEC second team member is Nneka Ezeigbo. Ezeigbo has posted two of her eight regular-season double-doubles against the Blackbirds. In the first matchup in January, Ezeigbo finished with 17 points and 13 rebounds. Ezeigbo led all players in points during this game. Ezeigbo then put up similar numbers against LIU Brooklyn in the second game between these two teams. She finished with a 16 point and an 11 rebound performance, good enough for her second double-double against the Blackbirds. Ezeigbo was the only Colonial to put up double-digit points in that win as well as being the top scorer and rebounder of the game.
Also, Ezeigbo typically plays off of the bench for RMU and the Colonials posted 21 bench points in February's game so watch out for Ezeigbo to come off of the bench and be a force to be reckoned with.
Another player for RMU to keep an eye on is the senior guard and an All-NEC First Team member, Megan Smith. In the First contest against LIU Brooklyn, Smith finished with 15 points and 8 rebounds and was one of three Colonials to post double-digit points in the scoring column. In February game, Smith only finished with 9 points but corralled 9 boards. Smith as totaled 17 rebounds against the Blackbirds this season do watch out for her to be aggressive in the paint help lead the Colonials with her rebounding ability.
A Colonial that didn't post eye-catching numbers against LIU Brooklyn in their final regular season battle but who did have 11 points in the January meeting, is freshman guard and a member of the NEC Rookie team, Honoka Ikematsu. Ikematsu finished with 8 points in February's matchup between these two teams but she is definitely a player to look out for in the semifinal game. Ikematsu can drain buckets from beyond the three-point arc with ease so LIU Brooklyn can't take their eyes off her when she is on the court.
For LIU Brooklyn, there are two players that blatantly stick out as players to keep an eye on Thursday. One of those players is Jeydah Johnson. In the January Matchup, Johnson posted 16 points as she and teammate Denisha Petty-Evans tied in points for the Blackbirds. Johnson then scored 12 points in the February contest, again, tying for most points scored by a Blackbird in the game.
The second LIU Blackbird to keep an eye on is Deangelique Waithe who has finished with two double-doubles against RMU so far this season. Waithe finished the first game in January with 10 points and 10 rebounds and the February game with 12 points and 12 rebounds. In February's contest, 7 of Waithe's 10 rebounds came on the defensive end. Waithe plays a pivotal role on both ends of the court for LIU Brooklyn so she is definitely a Blackbird that the Colonials can't lose track of on the court.
Keys to the game:
For RMU, the key is to avoid a bad quarter. The Colonials are coming off of a quarterfinal win where they had a poor second quarter performance by only scoring 5 points and allowing CCSU to fight their way back in the scoring column before halftime. In both games this season against the Blackbirds, RMU has a quarter in which they scored less than 10 points a quarter. LIU Brooklyn scored double-digit figures in both of those quarters of struggle for RMU. If the Colonials find themselves in a close game and have a quarter in which they struggle to find the basket, LIU has a good chance at upsetting the No. 2 seeded Colonials as they put themselves in a position to take control of the game and prevent RMU from playing their style of basketball.
For, LIU Brooklyn, their key to the game is shutting down Nneka Ezeigbo. Ezeigbo has put up great scoring and rebounding numbers against the Blackbirds this season and is the one player for RMU that seems to have dominant performances against the Blackbirds. If LIU Brooklyn wants to have a shot at making the NEC Championship game on Sunday, they cannot let Ezeigbo be as dominant as she has been against them this season.
Skip to content