Nina Augustin: From the Finnish National Team to the courts of Moon Township
March 20, 2018
It's clear that head coach Charlie Buscaglia and the rest of the Robert Morris women's basketball staff reaches far and wide to find talent. Greece, France, Spain and the Democratic Republic of Congo are just a few of the places that former and current Colonials call home. Nina Augustin may be one of the most traveled Colonials.
Having a strong point guard coming into the game off the bench is critical for a successful basketball team. In their quest to find a player that can fill this role, Robert Morris looked far and wide. What they found was a point guard from Helsinki, the fourth-largest Scandinavian city, who is the player to fill that role.
Nina Augustin is the first player from Finland in program history. In her time in Finland, Augustin made quite the impact. She helped her team to four consecutive U-19 championships from the 2012-13 to 2015-16 seasons. Augustin also led her team in assists in the 2015-16 season. To reach the Finnish line, a player has to find their start.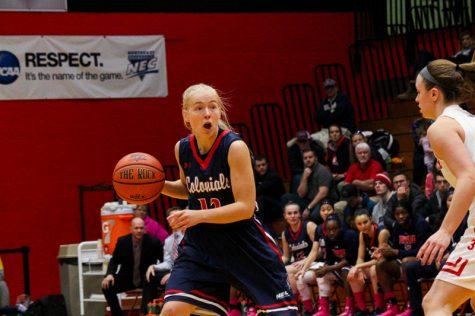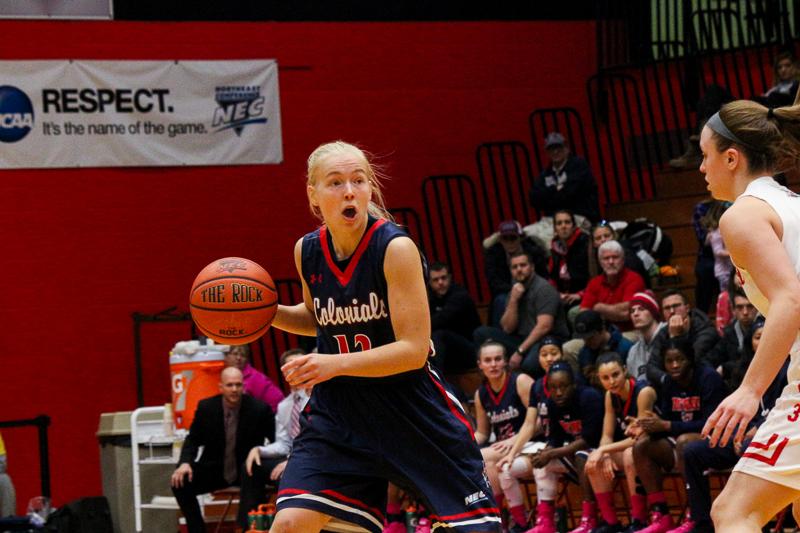 "I think I was nine years old," said Augustin. "(I started playing) because my sister was playing. I really wanted to try it out. I was always dribbling the ball at her games."
Even though Coach Buscaglia never visited Finland while recruiting, he realized the talent that was in Finland. "Nina is a true point guard," said Buscaglia. "She'll come in and look to get the team into the offense and play with a great pace. She's low to the ground and good at keeping the ball moving, whether it's off the dribble or getting the ball to the open player on the break."
Trying to find a player from Finland could be a challenge. Nina Augustin's coaches in Finland gave her a helping hand.
"My coach was sending clips of us playing around the states and RMU was interested," said Augustin. "They were recruiting a few other players from my team. They were interested, so my coach gave them my email. They contacted me and were emailing a few times. We set up a FaceTime with Coach Morita. We FaceTimed four or five times. They showed me campus because is was so late I wasn't able to visit. Then they offered me a scholarship."
Picking a college to play at is difficult for anybody, but it can be more difficult for athletes. Athletes have to pick a school that they can flourish as both an athlete and a student. The choice seemed pretty clear to Nina.
"A lot of my friends came to the United States to play basketball, and with help from my former coach, he introduced me to RMU," said Augustin. "I wanted to study business and we have good business school here. There are a lot of international student which is really important for me. I liked those two things."
One thing that stands out about Augustin before her time at Robert Morris is the fact that she played on Finland's national team. Playing against the best basketball talent in the world can be beneficial to any player.
"The game, the practice and everything is more competitive on the national team," said Augustin. "It really helped me grow. Also, the national team games are much more physical. I think I learned how to be stronger on the court."
The skills that Augustin learned in her time with the national team can be revisited in conference play. The NEC has historically been a physical conference, but that's not really the style of play that Nina was used to back home.
"In our conference, there is more physicality and contact," explained Augustin. "But back home it's faster."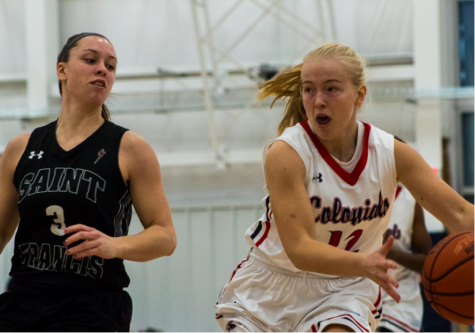 The RMU women's basketball team has had a track record for their reach around the world for players. The mix of talent has worked out well for Coach Buscaglia and company in the past. This year is no exception. There is risk that is taken with building a team like this that is often overlooked. While bringing in players that are from all around the globe, the differing of styles can be a conflict. The chemistry can also be a problem.
"I think it's like richness to have different kinds of players," explained Augustin. "Coach B. knows what he wants. It's easy for us to follow. It makes it easier even though there is different kinds of players."
Having a team full of international players can also be a blessing. The team can find a common ground off the court. In the case of Robert Morris, the leaders on this team are international students. They can help the younger players adapt to life in the United States.
"Every one of us has their own problems," said Augustin. "With our problems, it's easier to understand what the other one is going through. If I have something that I'm worried about, it's easier to someone that I think is going to understand me."
As the regular season is in the home stretch, the Colonials have lost pivotal games. They have lost to conference foes, Saint Francis (PA) and St. Francis Brooklyn. The team has already made the playoffs and is getting set to take on conference rivals in the postseason.