Offensive line striving for more consistency
With Monmouth approaching on Saturday, the quarterback spot isn't the only position Robert Morris needs more production from in order to improve the offensive woes.
The offensive line has been noticeably inconsistent this season. They're a young group with a few new starters, but nonetheless their play as a whole needs improve and is instrumental in the flow of the offense.
"I think it takes time to gel," said offensive line coach Andrew Richardson. "We've had some younger guys stepping in there that haven't played a lot of football. It's just taking time. They're working hard, and that's all I can ask for right now."
Right guard Josh Thiel and left tackle Blake Chambliss are the two newcomers to the unit. Thiel played in 10 games last season as a reserve and did get a bit of experience. However this year, he's beginning to realize just how hard it is to be dominant up front at the FCS level.
"It's pretty frustrating. I've been here a couple years now and I played a little last year," he said. "I was pretty psyched and pumped and ready to play this year. I worked hard over the summer, but this is definitely not the start any of us wanted."
The RMU offense relies heavily on guard play, especially in the run aspect. In four outings, the Colonials average 95 rushing yards per game, though 199 yards from Rameses Owens in Week 2 bolsters that statistic. The rushing attack was primarily non-existent in the other three contests.
Thiel admitted that a lot of the time, the difference between a 10-yard gain and a 3-yard loss depends on how he comes off the ball.
"I'm pretty quick, and I think I use that to my advantage. Coming off the ball, you can see dramatic changes," Thiel said. "When I'm hesitant off the ball, we don't get much push. When I fire off the ball and try to pound it in there, with my speed, even though I'm not the biggest, I can still move people."
The guard opposite to Thiel is fellow junior Maxwell Robertson. He's one of the more experienced of the group; a two-year starter at the position while benefiting greatly from playing alongside former FCS All-American A.J. Dalton. Robertson, along with center Nick Faraci and right tackle Jon Hill, have been called upon as veterans to lead the young group.
"It's my job to get on [the younger guys]," said Richardson. "But it's their job to help them through those things and to maybe encourage them a little bit more, to say 'Hey, keep working and keep fighting'."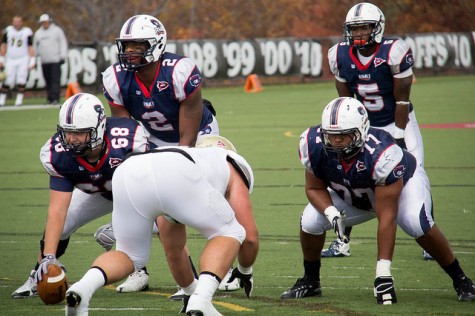 Faraci has also started the past two years. He's considered the brains of the operation, and handles a lot of the blitz pick up on gameday. The new faces have posed some problems from a communication standpoint, falling hand-in-hand with the nine sacks they've given up this season.
"Nick's played some football and he's been around. Maybe when he makes a call, those guys don't pick up on it as quick. Its been a little frustrating for him," Richardson said. "Any problems really, I go to [Nick] so he can sort them out. He's a guy that oversees the whole thing on the field, and he's the guy I look to to sort it out when we get over to the sidelines so we can fix things and go from there."
The unit as a whole is relatively undersized compared to other FCS offensive lines. Robertson is the biggest of the group, standing at 6-foot-3 and the only one above 300 pounds. With the lack of beef up front, they're focusing on alternate ways to be affective.
"We are one of the smaller offensive lines if you look at it," said Robertson. "We use that to our advantage. We're more athletic than most of the big guys. We can come off the ball and run at you. We're not as big, but I think being athletic and having more speed really helps us with our techniques."
It's not going to get any easier for them. Their opponent next week in Monmouth has a loaded defensive line. They return all four starters, and are coming off a three sack performance against Lehigh a week ago.
If RMU wants to keep it close this weekend, the boys up front must come to play.
About the Writer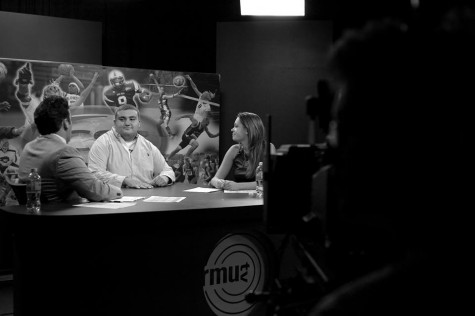 Chris Mueller, Sports Reporter
Chris is a junior Communications major at RMU with an applied concentration in journalism. He is Sports Editor for RMU Sentry Media.  As current Sports...