OPINION: We are witnessing the pinnacle of RMU women's hockey
Eight games into the season, the Robert Morris Colonials sit at 4-1-3 on the season, tied for the fewest losses in the first eight games in the history of Robert Morris women's hockey — a feat that should not go unnoticed.
And I know, I can already hear the doubters whispering, It's only been eight games or We have seen this before when they started 5-2-1 in 2012 and finished the season barely at .500 or They have just gotten lucky.
But I assure you, Colonial fans, that this is anything but luck. And if these numbers are telling the truth, we need to be ready for the greatest single season in the history of Robert Morris women's hockey.
The last and only previous occurrence in which the Colonials lost only one game through the first eight, they finished 19-9-4 on the season and won the CHA playoffs pulling off the upset over No. 5 Mercyhurst.
That was in 2012, and it was the closest the Colonials have ever been to a NCAA tournament berth — something that has escaped the grasp of head coach Paul Colontino as he enters his seventh season at the helm.
RMU is already receiving votes as a top-10 team in the nation as more and more teams are seeing what this squad is truly capable of doing. The team received two votes in USCHO.com's women's hockey poll last week, falling just outside the top 10.
A large portion of the credit is due to the superstar-esque performances by freshman Jaycee Gebhard, sophomore Amber Rennie, and redshirt-junior Brittany Howard.
These three have not just been good, they are all on pace to break the all-time school record for points per game (PPG). Both Gebhard and Rennie are on pace for 1.63 PPG, and Howard is not far behind with 1.5 PPG.
The current record is 1.38 PPG, set by Rebecca Vint in 2011.
Gebhard and Rennie are not just on pace to break this record, they are set to shatter it with an 18 percent increase.
But this is not the only record that these three players are on pace to break. Howard is averaging 0.75 goals per game, edging out the previous record of 0.71 — also set by Vint in her 2013 campaign.
At the same time, all three are in the running to also set the record for assists per game (APG). Rennie leads this category with 1.125 APG, followed by Gebhard and Howard with 1.0 and 0.75 APG respectively. The current record is 0.71, set by Howard herself in 2013.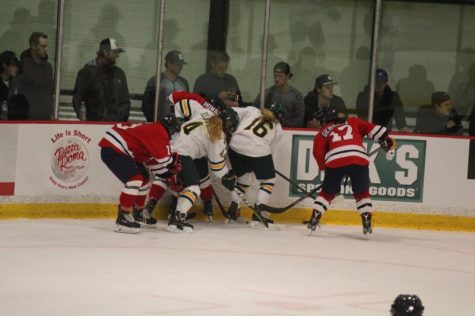 We can take a step back and look at the larger team picture of RMU hockey, and it will still tell us the same thing: these ladies can absolutely play.
The Colonials are currently averaging three goals per game as a team. which places them at No. 11 in the nation in that category. Based on the average amount of goals per game last season of 2.56, Robert Morris is on pace for another 19-win season.
Looking at the schedule, there has only been one game this season where the Colonials have even been held to just one goal, and they have yet to be shut out. What this tells me is that it is far more likely that the number of goals per game will increase rather than decrease.
RMU has the numbers to do something it has never done before; all that is left is the execution. That comes with dealing with the variables that can cause any season to go sideways: injuries, inconsistency, winning on the road as well as at home, and role players continuing to do their jobs and leaving the scoring to those who can.
The Colonials have only had a winning record on the road twice in their 12-year history. And if they want to be a surprise tournament team, they are going to have to do it a third time.
This means going into places that have traditionally given RMU problems, like RIT, Mercyhurst and Penn State. Hitting the road and gaining at least one win in each of these tough environments will not only win them the conference title but also garner the Colonials national attention from the rest of the hockey world as a team that can win anywhere they go.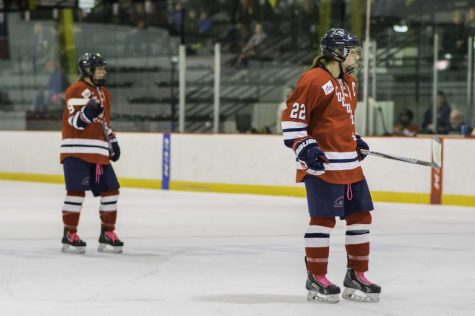 So far, Robert Morris is 2-1-1 on the road, with this previous road trip against Merrimack as the only series it came out of without a win. Good signs for what is to come but still so much to prove with a pivotal road trip coming in three weeks against the brutal crowd of RIT, and still a whole bunch of wins away from the 10-4-2 road record in their championship 2011-12 season.
There are 12 road games left for the team after playing four thus far. For the sake of predictions, let's say the Colonials go 2-1-1 after every four road games just like they did in the first four. RMU would finish with a road record of 8-4-4, a modest number that would give Robert Morris a shot at the conference title granted they do what they are supposed to do at the 84 Lumber Arena.
And that should be the easy part.
So, I just spent this article giving you a whole bunch of numbers and predictions, but what do they all mean?
I'll make it simple…
If you are a Robert Morris hockey fan, you need to get to these games and experience what will be the high mark of Colonials hockey for the next 20 years and, perhaps, the best chance of a postseason appearance in the 12-year history of women's hockey.
Conference play for RMU opens up this weekend against perennial College Hockey America (CHA) front runner Mercyhurst. Prepare to see Gebhard shine in her first career conference action and Howard continue what has been a career of dominance in the CHA, as the Colonials look to establish themselves as the pride of the conference.
Trust me, you are not going to want to miss it.