Opinion/Editorial: Change may be coming at QB for Robert Morris
We're now going on Week 5 of the Robert Morris 2014 campaign, and the new era has began with four non-conference games without a single win to show.
No way did I think that'd be the case back in August at this point in the season.
Yes, head coach John Banaszak is a first year head coach at the FCS level trying to weather a transitional period that has turned out to be a lot rockier than originally anticipated.
But if you know Banny, you know he's a motivator. That's his MO. If you need someone to inspire a winless football team outscored 126 to 33 by opponents in four games, there's probably not a better man for the job.
Now, the chief Colonial faces a tough task. He does indeed have a young football team. Essentially, the real Robert Morris season begins in three weeks at the start of NEC play with a trip up to Sacred Heart on October 11. Traveling to take on the Pioneers as a 0-and-5 football team with a sputtering offense on the decline is definitely a scary thought, yet an incredibly realistic possibility.
Lets assess the facts. There are tons of deeper meanings that could be applied to the 0-and-4 start, though majority of it really does all lie in the numbers.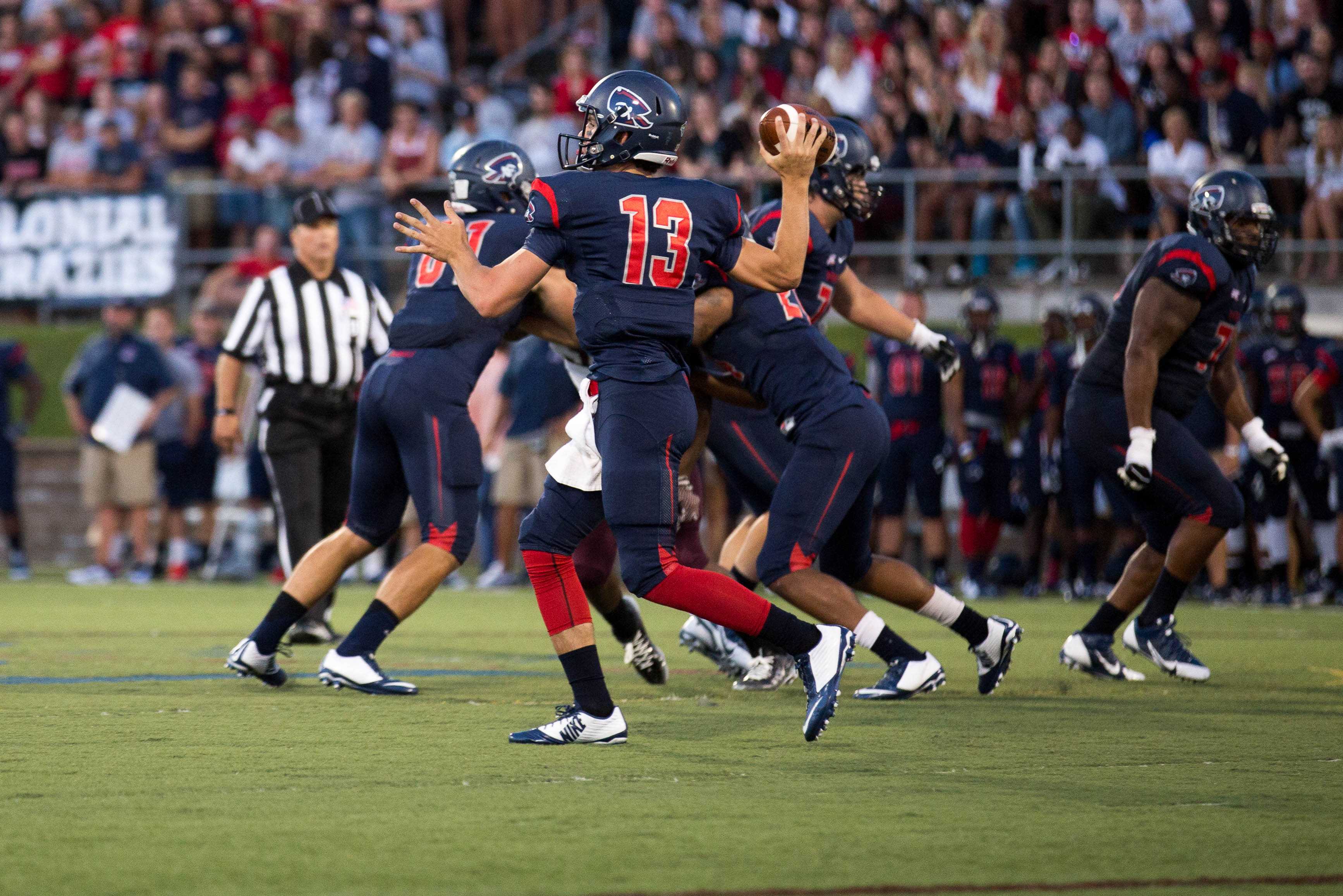 A blind man could tell you their poor record stems from the offense's inability score. Robert Morris averages 8.2 points per contest. You're not going to win football games when your offense has only scored multiple touchdowns in ONE game the entire season.
It's untrue to say redshirt-freshman quarterback Luke Brumbaugh is the sole reason for the offensive struggles. Football is a team sport, and it's been a collective disaster.
However, quarterback is the premier position in football. You get all the praise when things are going well and all the blame when things are going wrong. Brumbaugh has a 53.9 completion percentage this season. In four games, he's gone 69-of-128 for 529 yards with one touchdown and five interceptions.
He certainly has potential and a lot of time to further develop as a quarterback, but should waiting it out with him come at the expense of the team's record this season?
To put his statistics in perspective, Duquesne sophomore quarterback Dillon Buechel is 91-of-154 for 1,219 yards with eight touchdowns and three interceptions in four games as well. For the mathematically challenged, that's double the amount of passing yards with just 22 more completions.
His first appearance against Eastern Kentucky left a lot of people with the impression that he was at a point in his young career where we'd see steady progression from a week-to-week basis. It's been the opposite with him, though.
He didn't light up the North Dakota defense, nor did he need to with Rameses Owens carrying 39 times for 199 yards. Then, we know what happened at Lafayette, and  now most recently 98 yards on 17-of-30 with two more interceptions against Dayton last weekend.
Brumbaugh is just simply not getting the job done.
Offensive Coordinator Darrin Hicks is not a shy character to the media at all, but alike many of the other RMU assistants, he plays his cards very close to his chest. There's already a general understanding of what he's going to say before you ask the question.
I can't tell you how many times I've heard the importance of "constant improvement' and 'getting better rep-by-rep, day-to-day' from Hicks this season. But as Chris Cappella from ColonialsCorner and I interviewed him post-practice on Monday, he had a few interesting responses that gauged my interest.
I asked him if the coaching staff was considering a change at quarterback to provide a spark, given the extra time to prepare during the bye week. This was his answer:
"I think we're really focusing internally on just getting better overall as an offensive unit. Anything we can do to continue to improve to put a better product out on the field for us obviously to be more consistent, to move the football and ultimately score points."
He danced around the question a little bit. If the decision to keep Brumbaugh as the starter was already set in stone, he most likely would have been upfront about it. Banaszak was upfront about Brumbaugh still being their guy after the Lafayette loss. If the coaching staff wasn't considering a change, the easy answer would have been "Luke's our starter. We want him to get better, etc," and everyone moves on.
Now there's reason to speculate.
Junior Derik Abbott is the backup. He replaced Brumbaugh late in both the Lafayette and Dayton losses. He was considered the front runner for starting this year ever since the news about Paul Jones broke. He's an older guy playing a leadership position on an offensive unit starving for direction. Lacking an identity. With the offensive line struggling to provide consistent protection, Abbott is the better option from a mobility standpoint, too.
He was successful in a similar offense at Freedom High School in Florida where he set multiple all-time and single-season passing records, and made the Orlando Sentinel's Super 60 list.
With that in mind, another Hicks response was very interesting pertaining to Abbott's situation. We asked if his desire for constant improvement stems from the inconsistencies on offense, and this was his reply:
"I think that's probably at any level. Anybody that's going out there, you see the Steelers or anybody, those guys want to get better at every rep. I always talk to our guys that you can't waste a rep. The old adage 'Don't count reps, make your reps count.' There might be guys that aren't happy with the amount of reps they're getting, and those are the ones that need to go out and get better each and every time."
That could be an indication that Abbott's play in practice this and next week might possibly determine if he'll get an opportunity to start against Monmouth. Consistency may have been an issue in camp, and potentially the reason he didn't line up under center against EKU.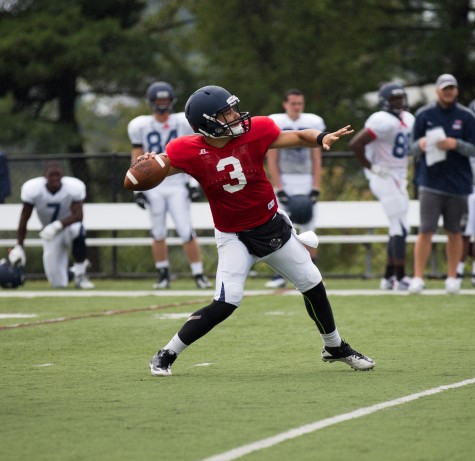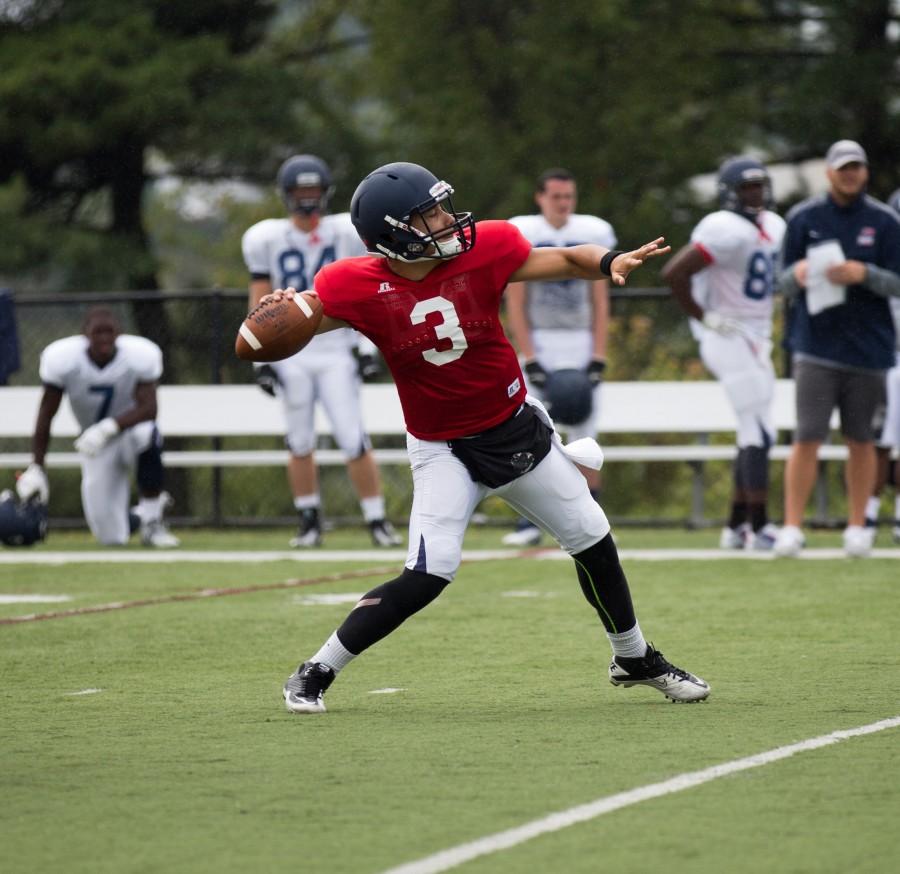 I'd be lying if I said I knew who's going to start quarterback on homecoming day. I don't know for certain if Banaszak, Hicks and rest of the staff definitely know either.
If they give Brumbaugh another chance and elect to start him, what happens if the offensive inefficiencies continue in a big loss to Monmouth? Giving Abbott the reigns with just five days to prepare for the defending NEC champs is a completely unfair scenario in my opinion, and it sets him up for failure.
Lets see how practice unfolds the rest of this week into next. I argue they should give Abbott the opportunity to right the ship.
Remember, the Monmouth outcome doesn't really matter in the grand scheme of things. It could be used as more of a dress rehearsal for Abbott to establish himself within the offense, get his timing down with receivers and have a full game experience under his belt before the madness begins with conference play.
It's a win-win move for Hicks. If Abbott comes in and the offense suddenly starts putting up points, and the team wins a game or two, the change is looked at as the right move. If the Abbott experiment fails miserably, the offense still wouldn't be worse than it is currently.
So I think Abbott deserves the opportunity. Change could be a good thing for the Robert Morris offense.