Pollock scores both on and off the ice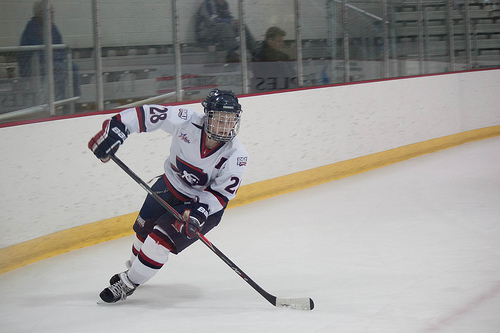 Throughout the ranks of women's collegiate hockey, there are numerous awards an individual can receive.
But one of the most prestigious is the BNY Mellon Wealth Management Hockey Humanitarian Award, which is the accolade that Robert Morris defenseman Brandi Pollock is nominated for.
"Brandi has worked so hard on the ice and toward her community," said head coach Paul Colontino. "We are all very proud of her and feel that she is well deserving of this award."
The Hockey Humanitarian Award, which is given to a male or female college hockey player who has given back to their community, was first distributed in 1996.
Born and raised in Virden, Manitoba, Canada, the communication major led her high school travel team to an Esso Cup Champion, a Western Regional Championship, and a Provincial Championship while playing on Team Manitoba for three years.
Pollock joined the RMU women's hockey team her freshmen year and was a star right out of the gate.
She recorded one goal, three assists, and fifteen shots during her first season, and her first goal was the game-winning tally of the CHA Quarterfinals against Wayne State.
"She is a talented and hard-working young women and I am very glad to have her on this team," said Colontino, her coach of three years.
While she has been effective on the ice for her squad, Pollock has also affected her community in a positive way by giving back to the district of Manitoba.
Pollock has been involved in a handful of charities, such as the Diabetes Walk in Pittsburgh, the Special Olympics Bowling, and the Ronald McDonald House. One of the events that she has done at the house was to play Bingo with the elderly.
Colontino said that he could see improvement in her each and every day.
"She is a great player on the ice and her work in the community just makes her better," he said. "She is a natural leader and has a level of commitment towards seeing that this program does its best every practice and every game."
Although she has been giving back to the community, the senior said that she felt as if her work has taught her lifelong lessons.
"All of the events, especially the Special Olympics, taught me not to take the things that I have in life for granted," said Pollock. "I know I'm playing D-1 hockey and a lot of people would kill for an opportunity like that. So I just have to not to take that lightly and be thankful every day."