Preview: Colonials homecoming weekend
Hang on for a minute...we're trying to find some more stories you might like.
It's homecoming weekend for Robert Morris University and because of that, several of the Colonial teams will be playing at home. Here is a quick preview for every home game this upcoming weekend.
Football (Saturday, Oct. 6 @ 1:00 p.m.)
Saturday, Oct. 6 at 1:00 p.m. in Joe Walton Stadium, the Robert Morris football team (1-3, 0-1) faces off against NEC rival Central Connecticut State University Blue Devils (2-3, 0-0) in the homecoming game. The Colonials are coming off a tough 49-46 loss from two weeks ago against the Bryant Bulldogs (3-1, 1-0 ). Central Connecticut last played on Sept. 29, losing 31-24 to Patriot League's Lafayette Leopards (1-4, 0-1). The Colonials are currently tied for third in the NEC with Central Connecticut.
Redshirt freshman running back Alijah Jackson has 249 yards on the season for the Colonials, and senior quarterback Jimmy Walker is 47-for-88 on the year for 674 yards, five touchdowns and four interceptions.
For the Blue Devils, senior quarterback Jacob Dolegala is 85-for-136, 958 yards, six touchdowns and only one interception. Defensively, lineman James Dumas and outside-linebacker Kenneth Keen both have two sacks on the year.
For more information about the football game, click here.
Men's Soccer (Sunday, Oct 7. @ 12:00 p.m.)
The Colonials men's soccer team (3-7-1, 1-1-0) is also playing homecoming weekend against the St. Francis Brooklyn Terriers (4-7, 1-1). The game is at noon on Sunday, Oct. 7 at the North Athletic Complex. The Colonials last game was a 3-1 win against the Sacred Heart Pioneers (1-8-1, 0-2-0). The Colonials currently sit tied for third in the NEC alongside St. Francis Brooklyn.
In the Colonials 3-1 win over Sacred Heart on Sept. 30, Guilherme Fanck, Zac Sherman and Owen Pearce all scored. Senior goalie Winter Fondi had five saves in the game.
For St. Francis Brooklyn, their last game was a 2-1 overtime loss to LIU Brooklyn (6-3-1, 1-0-0) in the "Battle of Brooklyn." Ali Tounkara had the lone goal for the Terriers, his third of the season coming at the 80th-minute mark.
Men's Hockey (Sunday, Oct. 7 @ 4:05 p.m.)
The Robert Morris men's hockey team plays their first game of the season this weekend. They are taking on the Brock University (Ontario, Canada) Badgers (2-1) in an exhibition game at Colonials Arena on Sunday at 4:05 P.M. The Badgers last game was a 3-1 win over the University of Guelph (Ontario, Canada) Gryphons. Freshman Connor Brown scored two goals in the game for Brock.
In the 2018 preseason Atlantic Hockey Conference coaches' poll, the Colonials were projected to finish third in the conference. Last year, the Colonials with an 18-20-3 overall record which saw RMU enter the playoffs as the seventh seed. However, the Colonials went on a deep playoff run which saw them make it to the conference championship game where they fell to Airforce by a score of 5-1.
Returning for the Colonials this year is Alex Tonge, who had 44 points (17 goals, 27 assists) last year, captain Brandon Watt and goaltender Francis Marotte. However, Robert Morris did lose all-time leading scorer Brady Ferguson, who scored 49 points for the Colonials last year. Ferguson signed an AHL contract with the Toronto Marlies, the affiliate of the NHL's Toronto Maple Leafs.
The Colonials also have 11 freshmen on the roster, including right wing Justin Addamo, from Clermont-Ferrand, France. Addamo scored 98 points in 52 games in the French U18 leagues, tied for 15th all-time. Two other freshmen to watch out for are right winger Nick Lalonde, who had the fourth most career points in the Central Canada Hockey League and centerman Grant Hebert. Hebert had 54 points in 57 games for the Fargo Force of the United States Hockey League (USHL), which is the top junior hockey league in the United States. The Ontarian also added 10 points in 14 playoff games as the Force won the league championship in 2017-18.
Volleyball (Friday, Oct. 5 @ 7:00 p.m & Saturday Oct. 6 @ 5:00 p.m.)
The Robert Morris Colonials (3-6, 0-3) women's volleyball team will be the busiest on homecoming weekend, playing two NEC games. The Colonials play St. Francis Brooklyn (5-12, 1-3) on Friday, at 7:00 p.m., and then play LIU Brooklyn (7-6, 4-0) Saturday at 5:00 p.m. The Colonials are currently tied for seventh in the NEC, while St. Francis Brooklyn is sixth and LIU Brooklyn is in the lead.
Robert Morris comes into homecoming weekend on a four-match skid. The Colonials' last win was against the University of Houston (13-6, 0-4 American) on Sept. 15 in the RMU-Sheraton Invitational. Their last match was a three-set to one loss to the Saint Francis University Red Flash (2-14, 1-2). RMU won their only set in that game by a score of 25-20. For the Colonials, Whitney Brown is second in the NEC with 8.06 kills per set.
The St. Francis Brooklyn Terriers lost a conference game on Saturday to the Bryant Bulldogs (13-8, 3-1), being shutout in three sets. The Terriers last win was on Sept. 22, a 3-1 win against Fairleigh Dickinson (2-14, 0-3). Nina Tiedt, the senior setter from Germany, is currently third in the NEC with 0.36 service aces per set.
The LIU Brooklyn Blackbirds have won all four of their NEC games, and their last loss was a match against George Washington University (7-7, 1-2 Atlantic 10). They lost three sets to two. LIU Brooklyn's last game was a 3-1 victory over Central Connecticut State University (6-9, 3-1). The Blackbirds are led by Austrian Viktoria Fink, who is fourth in the NEC with 3.20 kills per set.
About the Contributors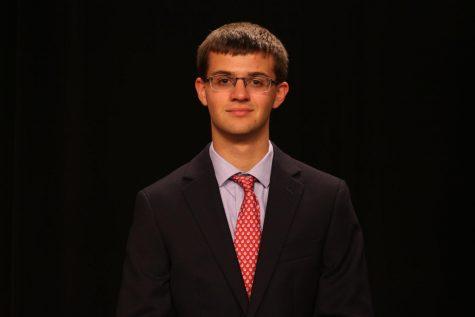 Jonathan Hanna, Sports Assistant Editor
Jonathan Hanna is a Communication major with a focus in Sports Communication from Rochester, New York. He is in his second year at Robert Morris. Jonathan...