Preview: Colonials look to continue best NEC start since 2010
MOON TOWNSHIP– Following a win over the Bryant Bulldogs (2-7, 1-3 NEC) last weekend, the Robert Morris football team (4-4, 3-0 NEC) seeks yet another win in conference play. Their 3-0 start to NEC play is the team's best since 2010 when they ultimately finished with a conference record of 7-1. Lining up across from the Colonials are the Sharks of Long Island University (0-7, 0-6 NEC), who look to end the Colonials' hot streak. It should be another great game in Moon Township, so let's see how these teams stack up.
Recapping RMU
Robert Morris has shaken the landscape of NEC football through their impressive start to conference play. After winning three conference games from 2015-2018, the Colonials have won their first three NEC matchups of their 2019 campaign. These wins haven't come easily, as they have had some second-half performances that were nothing short of fantastic against all three of their conference opponents.
Their most recent opponent, Bryant, put Robert Morris in a hole early on in the game. Hunter Hill hauled in a 21-yard touchdown pass to put the visitors up early. Despite not finding the endzone again in the first half, Bryant added two field goals to make the score 13-0.
Even with their first conference loss of the season looming, the Colonials would not break. Matthew Gonzalez did what he does best to start off the half, score touchdowns. His 13-yard touchdown reception provided RMU with the spark they needed to start a comeback. Brady Ours really got the fire going thanks to the first interception of his collegiate career. The offense couldn't find a way into the endzone, but Nick Bisceglia would send one through the uprights to reduce Bryant's lead to just three.
As the third quarter was in its final stages, RMU cashed in on a fumble recovery and scored a touchdown to put them in the lead 17-10. The Colonials managed to completely turn the tables on the Bulldogs in the third quarter, but the Bulldogs would not go down without a fight.
Early in the final quarter, Harrison Easton rushed into the endzone for a touchdown that gave Bryant the lead once again. Garrett Houser, the NEC Rookie of the Week, had a 72-yard touchdown reception that put the Colonials ahead permanently.
This performance, once again, proved how good this team can be when they fire on all cylinders. Terence Stephens, Jr. had his first 100-yard rushing game of the season. Matthew Gonzalez and Garrett Houser combined for four receptions and two touchdowns. Aniello Buzzacco recorded 18 tackles during the game. From top to bottom, the Colonials have the talent to pull out a win no matter how far behind they are.
Swimming with Sharks
LIU has had a very rough season thus far. The Sharks sit in last in the NEC with an 0-6 record in conference play. This clash against the Colonials serves as a chance to finally pick up a conference win, assuming they can come out of the gate strong and put up some points.
Offense, however, is a problem for the Sharks. In their last game against nationally-ranked Central Connecticut State (7-1, 3-0 NEC), LIU found themselves scoreless when time expired. This was the second time in as many games that they were shutout this season and the fourth time that LIU was held to 10 points or less. In total, LIU averages nine points per game this season.
On the defensive side of the ball, the Sharks allow an average of 28.9 points per game. They also allow 353.6 yards each game on defense. Even though the defense has struggled, Jerome Brooks III ranks second in the conference in tackles (62). Liam McIntyre also ranks in the top 10 with 62 tackles to his name.
The Sharks might have their fair share of struggles on each side of the ball, but they have plenty of talented players that could help lead them to a surprise victory over the Colonials.
Players to Watch
Terence Stephens, Jr. (RB, RMU)
After breaking the century mark in yardage last week, look for the Colonials' power back to find even more success on the ground against the Sharks. Expect him to get a lot off touches on the goal line and on early downs.
Mason Gray (DB, RMU)
Gray has registered 68 tackles this year and has had only one game with less than five. In addition to always being involved in bringing down opposing ball carriers, Gray is also a ball hawk, breaking up eight passes so far this year.
Jerome Brooks III (DB, LIU)
I already mentioned that Brooks is one of the NEC's leaders in tackles, and I feel as if that stat alone makes him a player to watch. Brooks is the star of the Sharks defense, and his number will be called upon to try and slow down the Colonials on Saturday.
Owen Glascoe (WR, LIU)
Glascoe struggled at the start of the season, recording just one catch in the first three games. The freshman quickly turned his season around by hauling in a total of 10 passes over the course of his last three games. His six catches two weeks ago were a career-high.
Prediction: This NEC battle will be tightly contested for the opening stages of the game, however, RMU will pull away shortly before halftime. I expect them to wear down the Sharks' defense and end up winning in convincing fashion.
Final score: 27-9 RMU
About the Writer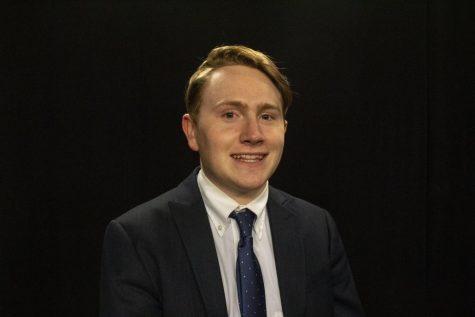 Nick Hedderick, Colonial Sports Network Editor in Chief
Nick Hedderick is a senior Communications major with a focus in sports. He is currently the sports editor for RMU Sentry Media. In addition to that, he...