Preview: Robert Morris vs. Bryant
Robert Morris (11-10, 6-0 NEC) vs. Bryant (13-8, 5-1 NEC)
A battle for first place in the NEC will take place Thursday night as the Colonials face off with Bryant at the Sewall Center on an 8PM tip. Some quick thoughts and keys to the game
Inside Presence: With an eight man roster, it will be essential for RMU to control the glass throughout the game. Stephan Hawkins must stay out of foul trouble and remain a positive presence in the paint. He now understands that with the given situation, his role has expanded, and he can't commit three fouls in the first half and sit anymore. Playing solid defense, moving his feet and being in the right position has to be key for the sophomore big, especially in the 2-3 zone the Colonials are likely to come out with. Look for Aaron Tate to be called upon early and often, especially if Hawkins picks up a couple of quick fouls. He came up big in the Wagner game, and will need to again Thursday night. They'll have their hands full with Bulldogs' senior forward Alex Francis though, who heads into the matchup averaging 24 points and 10 rebounds in conference play this season. In the two team's prior meeting, a 71-67 RMU win, Francis put up 29 points.
"We don't want to give him anything easy," said junior forward Lucky Jones. "He obviously was running out and getting easy layups. At the end of the day, it's going to take more than him [for Bryant] to win the game."
Karvel Anderson vs. Dyami Starks: The Bulldogs' leading scorer, limiting Starks is another key to Robert Morris success.  In their last matchup, he was held to 13 points on a mediocre night shooting. He's a streaky shooter, and once he gets going he's hard to stop. Getting a hand in his face at all times and contesting shots will be the Colonials' best chance at keeping him in check.  Starks and Anderson will surely cross paths a lot Thursday night, and it could be a straight out dual between the pair of guards, something that would be fun to watch.
"Even at their place," said Anderson. "Starks had an off night. That's one thing we've got to know going forward is that he's going to come in here hungry, wanting shots and being way more aggressive. He's a big time player."
Anderson was instrumental in his team's last previous win over Bryant. The senior guard notched 32 points in the win, going 12-of-23 from the field and 6-for-13 from downtown. He scored the final nine points for the Coloinials, and hit a jumper with 38 seconds left to break a 67-67 tie. Bryant is sure to put a larger emphasis on defending him this time around, but it's a certain bet that Anderson will get his share of points. He was asked Wednesday about what a matchup with Starks brings out of him.
"You live for those types of matchups," said Anderson. "That's somebody who I get compared to a lot. That's somebody who I look at. My game gets compared to his. My coaches compare my level of play to his level of play. It's something that I get up for."
Toole Factor: Who better to have as your leader to weather the storm surrounding the team right now than Andy Toole? Calm, cool and collected, the Colonials head coach has continued to preach the same things regardless of a 14, 12 or eight man roster. His players trust him, and trust the system. He's really been instrumental in the progression of players like Anderson and Jones, and will continue to push them as players and leaders as the season moves on. Toole had this to say heading into Bryant.
"I think there's a lot of things that stand out. Obviously, they're a very well coached team, a very experienced team," said Toole. "Alex Francis and Dyami Starks are two first team all-league players. They're averaging 43 points a game combined in NEC play. They really stretch your defense because they're so good inside as well as out."  
The Colonial Crazies have declared a 'Red Out' for the game, and based off of Twitter, it seems that The Chuck will be rocking. The game will be televised nationally by ESPNU as well. A Robert Morris win will capture the highly coveted tiebreaker between the two schools, and most likely help to secure home-court advantage in the NEC tournament. First place is on the line. Will the 'crazy eight' be enough?
About the Writer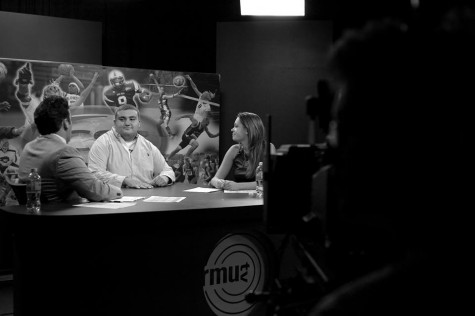 Chris Mueller, Sports Reporter
Chris is a junior Communications major at RMU with an applied concentration in journalism. He is Sports Editor for RMU Sentry Media.  As current Sports...