Final Q&A with John Banaszak
Here are some answers that stood out from head coach John Banaszak's end-of-season interview
What have you learned in your first season as head coach that you maybe weren't expecting coming into it?
I think I've learned a lot. I've learned that you can't win at any level playing freshman and sophomores no matter how good they are. We kind of knew that coming into it. I look back at the 2011 season after we graduated 26 seniors off a championship team. We struggled the following year going 2-and-9 playing freshmen and sophomores. I kind of forgot that. I was in a position this time to be at the helm and say we can win anyway. I think that's probably what I re-learned…
The thing that I did learn as that some losses can be very devastating. I thought I handled the loss after North Dakota pretty will but I didn't. It really had an effect on our football team not winning that game.  The Lafayette game we go out there and get crushed from the opening kickoff to the final whistle. That was directly attributed to the loss at North Dakota. I didn't do a good enough job of getting over the loss. At that point, I think our team had a hard time believing they could win.
How do you approach the offseason recruiting process? Are the any positions or areas you're going to focus on?
It's a team effort. There's no question about that. Every recruiting meeting we've had has been a very good meeting. We've identified the kids we want to go after. There's some very important areas that we need sured up. Number one is speed on offense. we've identified kids that are game changers. You look at last year, and this offense is built around speed and you lose all your speed guys. You're immediately handcuffed when you don't have one of the elements of your offensive strategy. And then you lose a quarterback, and you lose this guy and that guy and you end up with 27 first time starters on your football team. There are a lot of things that are going to benefit us from a year ago but we also know that the last two recruiting classes have been very good. You talk about foundation, that's the foundation…
More on recruiting
…From what we did offensively, I really think we've improved an awful lot. The understanding of what we're trying to do is important. We need to plug some holes, and that's the recruiting process. You asked me about junior college kids, We're looking at a couple. It has to be the right fit for us. We're looking more at prep school kids, post-graduate players. A post-grad kid that still has four years left. There are some out there that we're bringing in. We just found another offensive lineman at Midwestern Prep in Illinois. We're going to bring him in next week, a 6-foot-3, 290 pound kid. Speed we found, it's amazing. I'll turn my computer on later and I'll have 60 emails from kids all over the country. We scour those. Found a kid from Huntsville, Alabama yesterday who's a game changer. A 6-foot-1,190 pound receiver. Why is he still available? That's the first question is how come he's not snatched up. So I send it to coach Hicks, coach Farison, coach Richardson. We're in search of those kids, he's a game changer. We call him last night and introduce ourselves and ask him to investigate us. We like you, we want to be able to offer you and bring you up on an official visit. Improve our football team, with speed, size and strength.
How difficult was the quarterback situation and what effect did it have on the season?
It played a very important role on how we performed this year. Luke [Brumbaugh] against Eastern Kentucky did a tremendous job. Threw the ball 51 times without an interception and had a great start to the year. We go to North Dakota and he plays well, misses a couple passes that could've helped us. And then everything caves in on him against Lafayette. We make the decision to change quarterbacks, and then everything starts to snowball with injuries. What are you going to do? Marcus Prather comes back after playing wide receiver and he's your starting quarterback the last game of the year. I hope I never have to go through that situation again, but we've learned from it. I think our kids and our quarterbacks have learned from it, that they've got to be prepared as the next guy up. We've talked to the kids and we've always prepared that way. Now they see it from the perspective that it happened.
How would you evaluate offensive coordinator Darrin Hicks and the offensive struggles this year?
He's been at a lot of places and he's done a lot of things. He's a very intelligent football coach. His scheme, his offense is one that relies on a lot of parts, speed being one of those parts. There's no question that he struggled. He was closer to jumping off the bridge than I was. With everything that happened to us offensively, we still saw more than a glimmer of hope that what we're doing is the right thing. We had four 100 yard rushing games. We have a true freshman that ran for 199 yards against a pretty good defense. Scores a big touchdown against Eastern Kentucky. We moved the ball somewhat effectively, but we weren't consistent enough to maintain it throughout a ball game. That leaves him in a situation play calling wise of 'What do I try now.' From the playcalling side of it it becomes pretty difficult at times. I have full confidence in Coach Hicks. He's called plays before in his career and he's going to continue to call plays without any interference from me…
About the Writer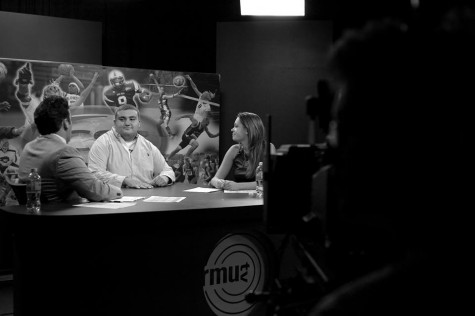 Chris Mueller, Sports Reporter
Chris is a junior Communications major at RMU with an applied concentration in journalism. He is Sports Editor for RMU Sentry Media.  As current Sports...