Rebuild of women's soccer taking time
It has been a tumultuous season for a Robert Morris squad who has been essentially trying to rebuild its entire team. After losing 14 players and eight starters from last year's campaign, the 2015 Northeast Conference tournament runner-up is 2-11 (0-3 NEC) with five games left in the season.
"It's like a brand new team," said head coach John Kowalski. "We've been rebuilding with lots of freshmen who are very inexperienced at the division one level."
That inexperience has been seen frequently this season with many of the large defeats RMU has suffered this season — scores like a 6-1 defeat to UMBC, a 5-0 loss to University of Pennsylvania, and a 5-2 loss at the hands of the Akron Zips.
The Colonials have been held scoreless on eight separate occasions out of 13 total matches this season. They have averaged 0.46 goals per game and currently rank seventh in the NEC in goals and goals per game.
When asked about who has to step up to solve their scoring dilemmas, junior midfielder Kasia Bak — owner of one of RMU's seven goals this season — said, "we just have to come together as a team, just keep building on that chemistry so we can win as a team."
But the problem is far more complex than simply a lack of scoring and a slow-building chemistry; the team's issues extends to its defense as well.
"Obviously we are facing a lot of shots during games," said goalkeeper Mackenzie Shearson. "It is a defense-first mentality to just generate as many goal scoring opportunities as we can."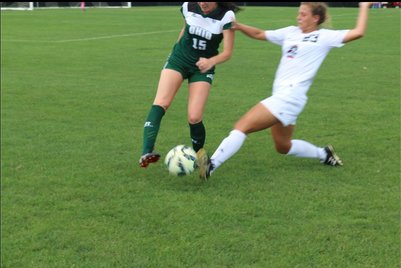 This season, the Colonials have been outscored 33-7 and out-shot 205-137.
It is evident that there is still a long road ahead for the Colonials. The youth that coach Kowalski discussed has still yet to make an impact on the field, as out of the eight total freshman on the roster, not a single one has recorded a point this season.
With the lack of a freshman presence and the lack of a strong senior class, it sends fans mixed signals as to the future of this team.
But even through the disparity, the overall outlook for the team remains positive. Shearson reiterated the statements made by both coaches and players as the continuing belief for the future of the women's soccer team. "We are making progress," she said.
"We have to continue improving in the name of turning things around and having something to play for," said coach Kowalski.
"Just getting to that point is very important," said Bak.
Through the struggles and the tough defeats, there lies a belief that all the work will soon begin to pay off.
But at this point in the season, the Colonials will need to win their final five match-ups to even make the conference tournament.
With only three departing seniors after this season, RMU hopes to continue making progress and continue building on the chemistry so it can come back in 2017 as contenders. But as for 2016, the Colonials' rebuild is in full swing.