Remaining Colonials step up as roster dwindles down
Desperate times call for desperate measures. Just ask the Robert Morris men's basketball team.
Losing over 42% of their program in a matter of two weeks, the Colonials, who are unbeaten in Northeast Conference play, have had to take on new roles in order to fill the void left by absences and suspensions.
"Everybody's feeling like they have the need to step up and that's what everybody is doing," said sophomore transfer Aaron Tate. "Coach [Toole] told me that I was going to have to play the five spot since we lost a couple people, so my mindset is to just come in and play as hard as I can, do what I have to do to help us win."
Despite being without transfer Desjuan Newton and Mike McFadden, RMU's main low post player, Tate, along with Stephan Hawkins, have seen increased playing time as a result.
Due to McFadden's absence, Hawkins, who is averaging 15.6 minutes per game, will be the Colonials primary presence in the paint, something the Gary, Indiana native is adjusting to.
"The encouragement from my teammates, telling me that I have more talent than I've showed previously in conference play [is comforting]," the sophomore said. "Lucky inspires me a lot. He usually comes to me before games and tells me 'let's work, let's get it.'"
Aside from Hawkins, a 6-foot-9 center, RMU's next tallest player is Lucky Jones standing at 6-foot-6, followed by Tate, who is one inch shorter. So rebounding should be a challenge for Robert Morris, right?
Not exactly.
In the past five contests, sine McFadden's departure, the Colonials have outrebounded their opponents, 178-158.
"I think they've played very hard in the last two games, but I think that that's the way they should play all of the time. I don't think that there's ever an excuse for the effort you give and I think that was some of our frustration early in the year because there were times when I didn't think that we were giving the proper amount of effort," said head coach Andy Toole. "Some of our guys, whether it's Charles Oliver, Aaron Tate, Kavon Stewart, who are kind of going through this for the first time, sometimes they need to learn how hard it is to win, how hard they need to play."
"Even a guy like Stephan Hawkins and Dave Appolon, guys that have been inconsistent in their minutes at times now having much larger roles, and given the proper amount of effort to that," continued the fourth year head coach. "Some of its due to the fact that they're more comfortable, they know 'hey am going to be out there, I might make a mistake, I might make an error but if I can play hard, that's going to give us the best chance to be successful. The guys have bought into that in the last two and hopefully they can continue to do it going forward."
Anthony Myers-Pate, RMU's longest tenured player, is being called upon to lead the squad down the stretch of league play, something the senior is familiar with.
"Whatever the game calls for, I have to step up and make the play. Coach Toole told me that. When I get an open shot, I have to knock it down," he said. "They're going to try to take away [Karvel Anderson] and [Jones] a lot, so that's opening up games for me."
About the Contributors
Nick Buzzelli, Sports Editor
Nick is a senior communication major with a concentration in journalism at Robert Morris University and is the Editor-in-Chief of RMU Sentry Media.

In...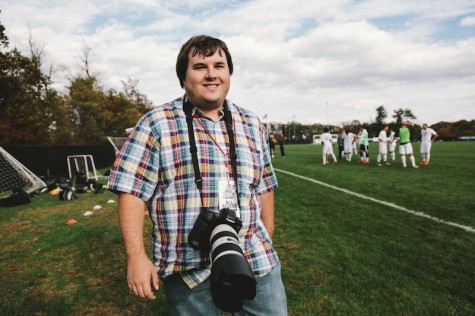 Kyle Gorcey, Freelance Sports Photographer
Kyle is a senior Communications major with a concentration in journalism at Robert Morris University who is a writer and sports photographer for The Sentry. The...