Resilient Robert Morris storms back to takedown Terriers
With the score knotted at 62 with two seconds remaining in regulation of Saturday afternoon's game against St. Francis Brooklyn, Karvel Anderson had the chance to win the game for the Colonials. But his jumper from the top of the key hit the back of the iron and rattled out, forcing overtime.
Fast forward to the extra frame and with three seconds left, the fate of the contest was once again in the hands of the senior from Elkhart, Indiana.
Once again he took a fade-away jump shot and once again it was off the mark.
Only this time, he had a little help from his teammate.
Lucky Jones snatched Anderson's air ball underneath the basket on its flight down and got the put back to go, securing not only a 71-70 win for the Colonials (18-11, 13-1) over SFC (16-13, 7-7), but also the Northeast Conference Regular Season Championship as well.
"I was hoping that he [Karvel] was going to make the shot. But I seen it partially get tipped and I was trying to look in the air to see where it actually was at and I was just going to try to catch it and go up with it," said Jones, who netted 14 tallies. "At the end of a game like that, it was tremendous effort by our guys. I said 'please go in' and then when I finally saw it drop, I couldn't really think any more because the crowd was so loud and everyone was jumping up and down."
Robert Morris began the game up, 6-5, but St. Francis gained the lead at the 17:42 mark after a layup by Lowell Ulmer and they wouldn't allow the Colonials to get ahead until nearly 10 minutes later.
From that point in the first half, the Terriers used a 13-6 run to catapult them to a 37-31 advantage heading into the locker room.
Courtesy of a layup by Kevin Douglas with 32 ticks left, Saint Francis tied the game, setting up Anderson's first attempt at heroics.
"I thought the shot at the end of regulation was a great shot," said head coach Andy Toole. "He was getting kind of bumped both times, but he can kind of create that space and that's a shot we've seen him hit tons and tons of times."
It would take nearly five extra minutes of play for the Colonials to finally ice the game.
"I just thank Lucky. There isn't really much to say about it. When it went in, I got overexcited. It was a big thing with this being senior night, but to clinch the regular season championship on senior night, in this type of game, with the emotions that we all had, I'm just proud of my guys," said Anderson, who played all but three minutes of the game. "We stayed together through everything."
Anthony Myers-Pate, the other senior honored during the pregame festivities, said that this win proves that Robert Morris sticks together through thick and thin.
"It's great to have all of our fans and family members here to see this on senior night and for us to show so much togetherness," he said. "You can't ask for more, it shows that we're the ultimate family."
RMU closes out the regular season with a road swing to play Fairleigh Dickinson and Wagner before returning to the friendly confine of "The Chuck" on March 5 for the first round of the NEC Tournament.
About the Contributors
Nick Buzzelli, Sports Editor
Nick is a senior communication major with a concentration in journalism at Robert Morris University and is the Editor-in-Chief of RMU Sentry Media.

In...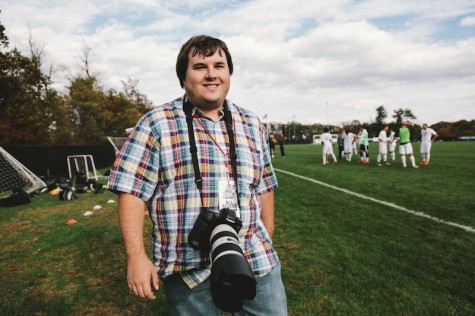 Kyle Gorcey, Freelance Sports Photographer
Kyle is a senior Communications major with a concentration in journalism at Robert Morris University who is a writer and sports photographer for The Sentry. The...