RMU defeats Mount St. Mary's, 12-11
In a back and forth Sunday afternoon affair, host Robert Morris held on to defeat Northeast Conference foe Mount St. Mary's, 12-11, in a dramatic, fast-paced game. With the win, RMU improves to 6-5 on the year and knocked the Mount out of NEC playoff contention, a year after they saw their 2012 season end at the hands of the Mountaineers in the conference postseason.
"We obviously would have certainly liked to keep that four-goal cushion that we had," stated head coach Drew McMinn. "One of the biggest things we talk about is staying consistent in every situation and not letting the score affect the way we play. I felt the guys responded well."
The Colonials relied on a variety of two-goal scorers in a well-rounded offensive game-plan. Midfielders Connor Martin and Tyler Digby each tallied two goals and an assist respectively. Eric Rankel notched a goal and two assists
"We set out to get the looks we wanted and create our own shot," said Martin. "We did have some breakdowns but it's a full game. I definitely like our chances going forward."
Attack Jake Hayes and Luke Laszkiewicz also netted two goals apiece. Hayes' effort broke an RMU record by scoring a goal in 18 consecutive games. Goalie Charles Ruppert was solid throughout the contest and notched 11 saves in net.
"Overall, we played great coming out of the gate," said Hayes. "We tried to play as fast as possible throughout the game. The second half is something we've been stressing all year and our mindset remained the same, but we got away with one there in the end."
Hayes and Laszkiewicz have been quite the one-two punch for the Colonials this season. Both are amongst the top five on the team in points and continue to steady their offensive attack.
"We netted a few early and it carried on throughout the game. Today both of my goals were just from driving the net. I've been really trying to do that more and focus on finishing." added Laszkiewicz
Mount St. Mary's managed to cut the lead to one with 5:50 remaining in regulation, but couldn't tie the game. They outscored the Colonials eight to five in the second half and won 19 of 23 face-offs, however their momentum was not enough to give them the much-needed victory. Brett Schmidt led the way with three goals and three assists while Adam Borogogelli had 10 saves on the day.
"I'm proud of how they battled," said Mountaineers coach Tom Gravante. "We had an opportunity to make a play to tie it at the end but just couldn't.  I commend Robert Morris and their ability to continue to play under pressure."
The head coach was frustrated in his team's inability to capitalize in the crucial moments of the game.
"I hoped for a game like this where we would be in it," he said. "We just needed a little bit more poise when it mattered. We didn't handle the pressure well."
About the Writer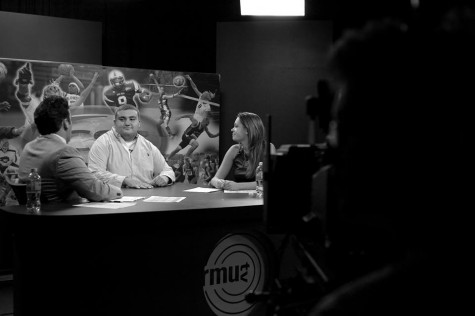 Chris Mueller, Sports Reporter
Chris is a junior Communications major at RMU with an applied concentration in journalism. He is Sports Editor for RMU Sentry Media.  As current Sports...