RMU drops series finale against Syracuse
The RMU women's hockey team was unable to go undefeated against Syracuse during the 2013-14 campaign, dropping a 3-1 decision Saturday afternoon at the Island Sports Center.
The game opened up with SU striking fast with a goal in the 26 seconds into the first. That seemed to be the only exciting thing, as both teams would not budge for the rest of the period.
Although both RMU and the Orange had plenty of shots on goal and fast breaks, the two goalies were up to the task.
Unfortunately, the Colonials did not get the goals that they were looking for as they dug themselves deeper into a three goal deficit.
Although Robert Morris controlled the amount of shots during the period, the Orange made their shots count.
Both the Colonials and the Orange looked to be tired and beat up as the physical play continued into the third period. The Colonials however, weren't tired enough to give up their quest for a comeback.
In the first minute of the period, senior forward Thea Imbrogno scored her twelfth goal of the season and put the Colonials on the board.
With the assist, her 26th of the year, Brittany Howard became the single season record holder for helpers in a season.
However, the celebrations for RMU ended quickly as they could not climb back into the game and lost by two goals.
As the penalty box was filled numerous times, the Colonials seemed to focus their energy more on the other team rather than putting points on the board. Hopefully, the team can think of a better strategy as they face the RIT Tigers on Valentine's Day on the road.
About the Contributor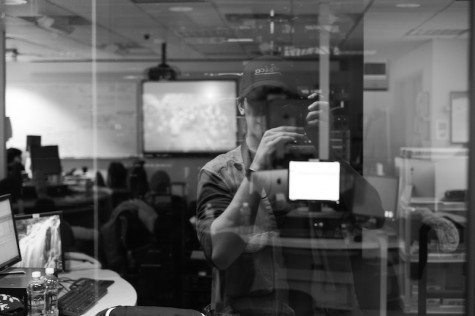 Paul Wintruba, Contributor
Paul is a junior photography major, and is a photographer for RMU Sentry Media.