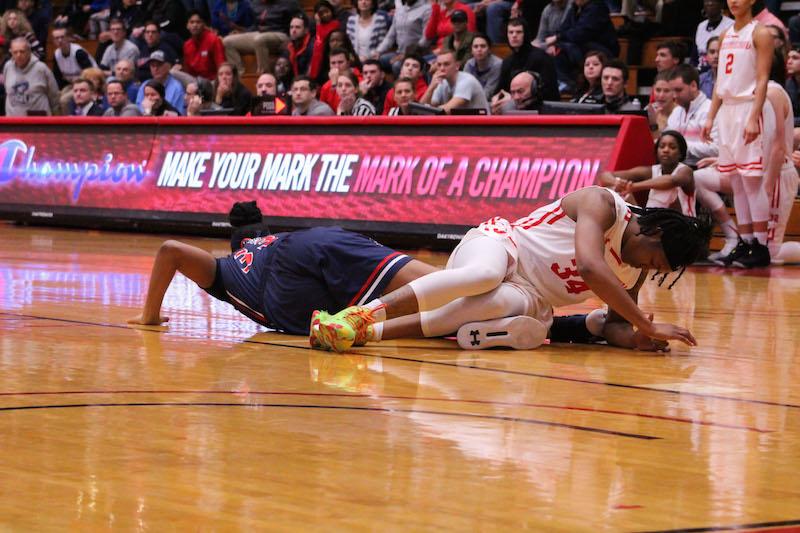 RMU falls to Red Flash in NEC title game
March 11, 2018
In a battle for a trip to the NCAA Tournament, The Robert Morris Colonials and the Saint Francis Red Flash battled for the third time this season as all the marbles were all the line in the NEC Championship game. The Colonials traveled to DeGol Arena in Loretto, Pa., for the second time this season. This contest was also the Colonials' fifth straight NEC Championship Game appearance.  
However, Robert Morris fell short 66-56 as Saint Francis punched their ticket to the NCAA Tournament.
Saint Francis jumped out to an early lead in the opening quarter as the NEC Player of the Year Jessica Kovatch paved the way for the Red Flash as she shot fast and accurately and led all scorers with 9 first-quarter points.
However, towards the end of the opening quarter, the Colonials got some defensive stops allowing them to control the pace of play. Robert Morris then took advantage of their front-court and found success in the paint. Senior center
Mikalah Mulrain led the Colonials in scoring with 6 points at the end of the first quarter. This type of ending was the beginning of a tight remainder of the game.
The offense looked to be a premium for Saint Francis early and for RMU at the end of the first quarter but the second quarter featured a much more defensive age. Neither team was able to get into such a groove at their respective offensive ends.
Mid-way through the second quarter, freshman Megan Callahan knotted the score up at 17-17. However, Haley Thomas gave the Red Flash their lead back with a good shot behind the three-point arc right in front of the Robert Morris bench. Saint Francis held a 26-24 lead with 31 seconds remaining in the half but sophomore Nneka Ezeigbo hit a jump shot with 10 seconds left tying the game up once again at 26 all. Kovatch put up a shot as time was running out but was off the mark as halftime came with it all knotted up at 26.
The Red Flash dominated the first quarter but RMU came back with a vengeance in the second quarter and outscored Saint Francis 14 to 11. Mulrain led all RMU scorers with 8 points as Jocelynne Jones and Nneka Ezeigbo contributed six first-half points each for Robert Morris.  
Robert Morris took their first lead of the game when Mulrain powered her way to the basket, Colonials led 28-26. However, Saint Francis would take the lead back on their next possession after junior Courtney Zezza hit a shot from downtown. Zezza would hit another 3-point shot giving the Red Flash a 32-28 lead but Jones would hit her third 3-point basket of the game cutting the lead to 32-31 for Saint Francis. The threes kept coming as Kovatch hit her third of the game to give her team another 4-point lead. The 3-point trend continued when Jones hit another shot from long range, the Colonials led 38-35.
Jones led the RMU offense as she was given room behind the three-point arc and continued to hit buckets from long-range. Jones finished the game with 21 points, hitting five out of seven 3-pointers taken by her. Overall, Jones shot 7-of-11 from the field.
Jones success came from her being open and teammates finding her.
"My teammates just kept continuing to believe in me, my coaching staff continues to believe in me and that's all it is," Jones said. "I just continue to just try to work on my shot in the gym, and my teammates were finding me and I was open so I kept shooting the ball."
Another aspect that separates this RMU team from others and an aspect that Buscaglia preaches is faith over fear.
"Never once did she have fear to shoot that ball today and that meant a lot to me because that's all we talk about every day so when you get in this moment, you can lose all that mentality," Buscaglia said. "Jocelynne has worked very hard this year to be confident to shoot that ball and on this stage today, she showed that that's a testament of her mentally preparing every day at practice and when she takes her reps, she battles, man and there was no fear in her whatsoever today. There's no fear in any of us. The mistakes we made were not out of fear," Buscaglia added.
With a little under three minutes to play in the third quarter, Haley Thomas hit two free-throws giving Saint Francis a 5-point, 45-40 advantage in the scoring column. On their next possession, Thomas was fouled while taking a 3-point shot and executed two of three free throws awarded to her as the Red Flash took a 47-40 lead.
In the fourth quarter, the Colonials struggled to find a rhythm offensively, leading to the Red Flash being able to take another double-digit lead at 54-44 with a little under eight minutes to play in the game.
Saint Francis tightened up their defense with minutes remaining with a strong full-court press, leading to RMU turnovers and struggles for RMU to get the ball into their front-court much like the beginning of the game. This allowed Saint Francis to keep their grip on their lead late and prevent and RMU comeback.
Jessica Kovatch led all scorers with 29 total points going 8-of-17 from the field and 3-of-7 from beyond the 3-point arc.
It wasn't the outcome they were looking for,  but head coach Charlie Buscaglia was very proud of his team's performance, not only today but during the whole season.
"The fight this year, the youth on our team, these seniors being so great of leaders, every day at practice, just going after each challenge, each game, one at a time. It was really remarkable and I'm very proud as a coach to coach these guys and see them really understand what this is really all about," Buscaglia said. "It's about challenging yourself every day, to be the best you can be and going out here and maybe getting off to a little slow start like we did, but to come back, and to keep going after it, keep fighting, this was a typical loss of ours where we continue to fight and not one of those losses that got away from us, one of those losses that we just fell a little short at the end," Buscaglia said.
The Colonials will not be going to the NCAA Tournament, but their season is not over. Robert Morris will get an opportunity to compete in the women's WNIT.