RMU football edges Lafayette on game-winning field goal
Senior kicker Greg Langer nailed a 33-yard field goal attempt with 23 seconds left in regulation to give Robert Morris University the victory over Lafayette, 31-28, Saturday night at Joe Walton Stadium.  The kick sealed the homecoming win for the Colonials and improved their record to 1-3 overall.
"I was focusing on making sure I kicked it right down the middle," said Langer. "I wanted to make sure I kicked it high enough and get it over the line. This feeling couldn't be better."
RMU pounced on the Leapords early, as senior linebacker Mike Nielson scooped up a Lafayette fumble and returned for a touchdown to give RMU an early 7-0 lead with 8:02 left in the first quarter.
After another quick stop by the defense, quarterback Jeff Sinclair found wideout Duane Mitchell streaking up the right sideline and connected with him for a Colonial touchdown.
"The atmosphere tonight really helped us to come out ready to play," stated Sinclair. "We had two great weeks of practice leading up to the game. Everyone was focused and played a great game."
Lafayette bounced back early in the second quarter as tailback Ross Scheuerman ran for a score to cut the lead in half, but the Leopards could not maintain their composure when RMU got the ball back on offense.
Two more scores by Sinclair, including one off a quarterback scramble, increased the Colonials lead to 28-7 going into halftime.
"Coach stressed to us all week that we needed to get our running game going." said Sinclair. "As you can see, getting our running game going opens up everything else for our offense."
Although the Leapords were surprisingly down 21 at half, they quickly fought themselves back into the game. Quarterback Andrew Shoop threw three TD passes in the second half to tie the game at 28-28 with 8:57 left to go.
A series of three and outs by both teams left the Colonials with one final drive to possibly win the game. A 50-yard completion by Sinclair to wideout Donte Jeter quickly moved the ball into Lafayette territory, and more importantly field goal range.
"I was just trying to kick as many balls in the net as I could and keep my leg nice and warm." said Langer.
Langer's leg was warm indeed. With ice in his veins, his field goal from 33 yards out capped off the huge homecoming victory.
A couple of unsuccessful end zone heaves by Lafayette concluded the game as fireworks went off, and RMU was victorious.
Playing great for RMU was the offensive line. After allowing 14 sacks in the last three games, they only let up one all night against a blitzing Lafayette defense.
For the second straight year, the homecoming game-night at RMU was a success with both amounting in victories.
"We should play under the lights for every game going forward." joked Sinclair.
The Colonials look forward to a matchup next week at NEC conference opponent St. Francis.
About the Writer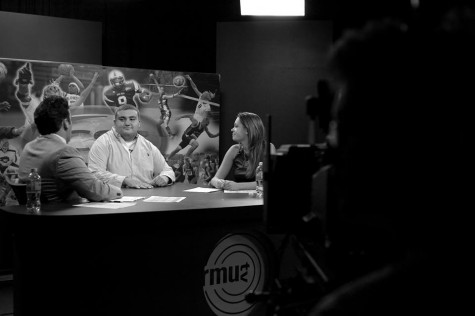 Chris Mueller, Sports Reporter
Chris is a junior Communications major at RMU with an applied concentration in journalism. He is Sports Editor for RMU Sentry Media.  As current Sports...