RMU nearly gets whacked by Mount St. Mary's
During halftime of Robert Morris' Northeast Conference contest against Mount St. Mary's,Chipper Harris, a member of the 1981-82 ECAC championship team, was the first player to be enshrined into RMU's Ring of Honor with the unveiling of a banner bearing his name hanging from the Charles L. Sewall Center rafters.
With the second leading scorer in program history in attendance, current RMU guard Charles Oliver did his best impression of the former Colonial by contributing a career-high 19 points off the bench en route to RMU's (16-11, 11-1) 69-61 win over the Mountaineers (10-14, 6-5) Saturday afternoon.
"Before the game Coach Byrnes, the assistant coach, told me that he thought I was going to have an impact in today's game because they were going to deny Lucky and Karvel," said the transfer from Lakeland Community College in Kirtland, Ohio. "So they basically weren't really going to respect me, so I had to make them pay for that, which is what I tried to do today."
The Mount's Rashad Whack led his squad with 27 tallies.
Mount St. Mary's began the game on a 4-0 run, but the Colonials quickly countered after layups by Stephan Hawkins and Anthony Myers-Pate.
Both squads would trade baskets over the next six minutes of play before Oliver's triple at the 11:57 mark put Robert Morris up, 14-13.
From that point forward, RMU never looked back.
"Chuck was awesome. They do a great job of trying to take away Karvel and Lucky and so you need a third guy to be able to step up and, to his credit, he stepped up," said fourth year head coach Andy Toole. "He was aggressive, he was locked in, and a lot of the credit goes to his preparation."
Though the Mountaineers wouldn't go away quietly and although they trailed by as many as 11 in the second half, MSM came within four with 1:39 remaining.
However, David Appolon's steal and layup with 51 ticks left sealed the Colonials' victory.
"I was really proud of our guys' effort today. I thought they did an outstanding job of staying together, defending the three point line, and kind of working through some offensive struggles," Toole said. "Obviously some credit goes to Mount for the way they defend and the chaos they create, but when we needed to find some baskets, when we needed to execute, guys stepped up and made big plays."
Karvel Anderson, who was held to eight points, said that the Mountaineers' ability to distribute the basketball and create open looks is what kept the game close.
"They spaced the floor very well. They're one of those teams that take advantage of our zone with the areas that they put their shooters in, what Toole likes to call a gray area," he said. "It's kind of hard for our guards in the zone and our forwards to matchup with them and they move the ball very well. They have five shooters that can shoot the ball very well so when they can shoot like that, when they're in certain areas, it's hard for us to take certain things away."
Robert Morris closes out its regular season home schedule with contests against Long Island University and St. Francis Brooklyn on February 20 and 22, respectively.
About the Contributors
Nick Buzzelli, Sports Editor
Nick is a senior communication major with a concentration in journalism at Robert Morris University and is the Editor-in-Chief of RMU Sentry Media.

In...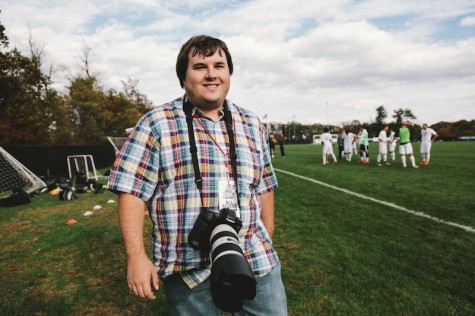 KYLE GORCEY, Freelance Sports Photographer
Kyle is a senior Communications major with a concentration in journalism at Robert Morris University who is a writer and sports photographer for The Sentry. The...