RMU ties powerhouse Pitt
The Robert Morris women's soccer team welcomed the Pitt Panthers to the North Athletic Complex Wednesday evening, and managed to remain undefeated. However, the Colonials were not able to add on to their impressive winning streak, and as a result, the exciting double overtime match ended in a 1-1 tie.
Pitt was in control to start off the game, dominating the ball and taking six shots on goal in the first 10 minutes. The first goal of the game came when Pitt's Alex Charlebois headed in a corner kick during the 11th minute on an assist by Roosa Arvas.
RMU would battle back and tie the game up in the 30th minute when Johanna Kadam found Madison Kozlowski with a beautiful pass over the Panther's defense. As goalkeeper Nicole D'Agostino charged forward, Kozlowski was able to nudge the ball past her and into the net. Kozlowski remains on fire for the Colonials. She now has four goals in RMU's last three games.
Both teams had their opportunities after the game became locked up at one, but neither was able to take advantage of them. Pitt had a large advantage in shots, 27-10, and also in corner kicks. Despite all the shots taken by Pitt, only six were on goal. The Colonials and Panthers were dead even in saves, with five apiece.
Like most of RMU's games so far this year, this was a physical one. RMU committed 13 fouls as a team, while the Panthers had 10. Pitt player Morgan Sharick received a yellow card in the 71st minute.
The raucous RMU fans were treated to an exciting hard fought game. The environment was electric, and the Colonials continue to impress.
RMU continues their record setting season with a long stretch of road games. Next, they will travel to Baltimore to take on UMBC on September 6. The Colonials' next home game isn't until Friday, October 11th when Bryant visits Moon Township for what should be a tough Northeast Conference matchup. It will be Robert Morris's first league home game of the season.
About the Contributor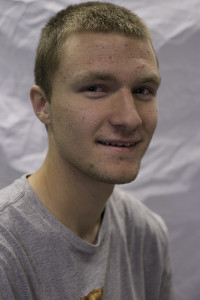 Jarod Johnson, Staff Writer
Jarod, a freshman majoring in communications, enters his first year with the student-run newspaper, "The Sentry." As a sports writer who played baseball...