Robert Morris beats Coppin State in second game of RMU Invitational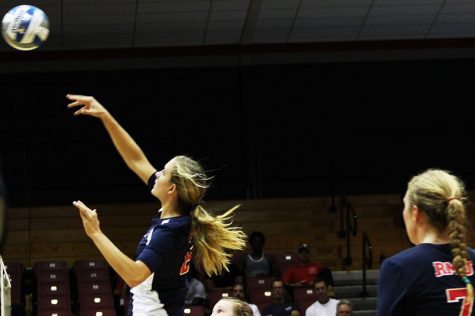 The Colonials (3-2) faced off against the Coppin State Eagles (0-6) on Saturday for the second match of the Robert Morris University Invitational.
Sophomore Brianna Schmid managed to rack up 12 kills and one dig, helping Robert Morris take the first set 25-17, pushing them to a 3-1 match win over the Eagles.
"I think we started to have a lot more energy, we started to have a little more fun out there and our communication got better," said Schmid on the Colonials overcoming a five-point deficit in the first set.
The Colonials came out in the second set determined to negate the slow start that nearly cost them the first. Three time All-NEC Second Team outside hitter Arden Fisher posted 12 kills and 20 digs on the day, extending her double-double streak to five games. Their perseverance showed on the scoreboard as they took the second set, 25-18.
However, the Eagles were not done yet. They regrouped and came out in the third set unwilling to accept defeat. Junior Bailee Jackson recorded 16 kills and 10 digs, leading the Eagles to win the third set 25-15.
While RMU's 15 third-set points were an invitational low.
But sophomore outside hitter Taylor Lord wouldn't let that third set shake the integrity of their game. Lord was one of four Colonials to play all 120 sets in 2015, and she used her experience to boost the Colonials through the fourth set. Lord recorded 36 attack attempts, 13 digs, and tied Jackson for the lead in match kills.
Head coach Dale Starr had a word with his team after the third set and got the Colonials motivated to end the match. Sophomore Allie Yurkovich and senior April Krivoniak both took his words to heart and recorded 10 digs in the match, holding the Eagles to 44 total kills out of 146 total attempts.
Coppin State freshman Dominique Madarang gave the fourth set her all and racked up a match-high 33 assists. But the Colonials were determined to put this one away and did just that with the help of sophomore Liz Campbell, who posted a team-high 30 assists. RMU took the match by defeating the Coppin State Eagles in the fourth set, 25-19.
The Robert Morris Invitational continues Saturday with the Colonials taking on Bucknell at 7 p.m. at the Charles L. Sewall Center.