Robert Morris captures NEC regular season crown by defeating Mount St. Mary's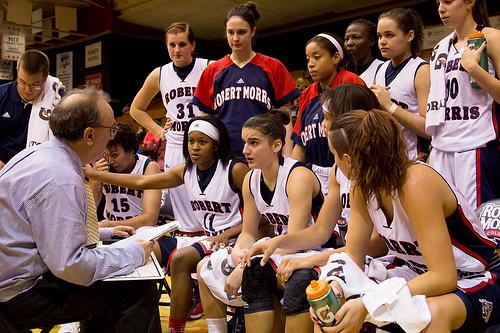 The stage was set for the Robert Morris women's basketball team as they took on Mount St. Mary's on senior night in the final game of the 2013-14 campaign.
Win, and be named conference regular season champions, or lose and decrease momentum heading into the NEC tournament.
For Robert Morris, no way were they losing grasp of the regular season title. The Colonials defeated the Mount 71-65 on a career-high performance from freshman Cassie Oursler, who posted 17 points 18 rebounds and six blocks.
"We had so much energy and it just carried through," said Oursler. "I knew I had to give everything I had because it was a very important game."
Senior forward Artemis Spanou had 24 points and 12 rebounds on the night in which she was honored for an outstanding four-year career in Moon Township.
"It's the first time for me winning the regular season championship," said Spanou. "It's exciting and a great feeling, but now we've got to stay more focused. Playoffs are coming and everybody's coming for you."
Spanou played a major role not only in the success of the team this year, but in the development of the fellow forward Oursler.
"Everything she does, I watch," said Oursler of Spanou. "I want to be as good as her as a player, so I watch what she does in the post and everything. I just try to learn from what she's doing and hope one day I can be like her."
Head Coach Sal Buscaglia had the most praise out of everyone for the Greece native; on the night she deserved it the most.
"You talk about Artie as far as she's a great player," he said. "But she has grown so much as a leader. The one thing you can't put a stat on is leadership and maturity and she's come such a long way."
The win secures first place in the NEC tournament for Robert Morris, and highly coveted home-court advantage throughout. This season, the Colonials are 9-0 in conference games at the Sewall Center.
"I think we have better games ahead of us," said Buscaglia. "I want them to get better every day. I still think we've got ways to go, but we feel that we're playing better."
Robert Morris will face off with LIU Brooklyn in the first round of the conference tournament on Sunday. Tip-off is slated for 2PM.
About the Writer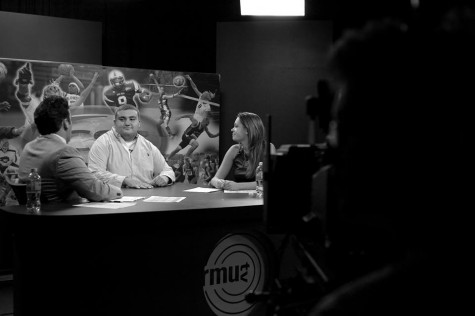 Chris Mueller, Sports Reporter
Chris is a junior Communications major at RMU with an applied concentration in journalism. He is Sports Editor for RMU Sentry Media.  As current Sports...