Robert Morris knocks off Knights in NEC Tournament
If there's one word that describes Karvel Anderson, it's dependable.
The Colonials have depended on the Northeast Conference Player of the Year's offensive abilities throughout the 2013-14 season and on every occasion, he's delivered.
But against Fairleigh Dickinson in the quarterfinals of the NEC Tournament, the scoring just wasn't there for the superstar senior averaging 19.6 points per game.
However for a Robert Morris team that has faced adversity all season long, this was just another Knight.
For the first time all season, Anderson was held scoreless by an opposing defense, but rather than depending on one player, RMU (20-12) relied on its whole team to dispose of FDU (10-21), 60-53, Wednesday evening at the Charles L. Sewall Center.
"We've found a variety of ways to win this year, which I think is important if you're going to have opportunities to compete for a regular season championship and obviously advance in the conference tournament," said head coach Andy Toole. "No two games are going to be the same, different guys are going to have to step up and make plays as we go through this. I think everyone has to be ready and prepared when their opportunity comes or their time to make a play for our team comes."
The Colonials got on the board first, 18 seconds into the contest, courtesy of a layup from Lucky Jones. But a dunk by FDU's Scooter Gillette three minutes in put the Knights up by two.
For the next nine minutes of play, both teams matched each other shot-for-shot, but after Jones hit a trey with 5:58 remaining in the first half, RMU took control of the game.
Fairleigh Dickinson never regained the lead.
Robert Morris led by 10 with one minute left, but FDU wouldn't go away without a fight. Although Sidney Sanders Jr. scored seven of his 16 points in a span of 44 seconds, the Knights' comeback was too little, too late.
"Our theme for this game was war. I think we focused in and locked in on that theme and we knew that they were going to come out fighting because they thought that they had the game last time," said senior Anthony Myers-Pate. "So we knew that they had confidence, thinking that they were going to win this game. We stuck together as a family and that just goes to show that the team is more powerful than the individual."
Despite the fact that Anderson played all but two minutes of the opening frame, the fourth year head coach said that since the senior wasn't feeling well, his playing time was limited during the second half.
"He definitely contributed when he wasn't on the floor. He was being very vocal, letting us know that we have to maintain our focus. With us being leaders on the floor, we had to step it up a notch, and that's what we did," said Jones, who led all scorers with 19 tallies. "We've been playing without people this whole game, but he definitely was real special on the bench and he was a part of this win the whole time."
Because of RMU's victory, the Colonials will face in-state rival St. Francis (Pa) in the semifinals of the league tournament Saturday at 2 p.m.
"I would hope [Karvel feels better Saturday]," said Toole. "I would be surprised if he didn't."
About the Contributors
Nick Buzzelli, Sports Editor
Nick is a senior communication major with a concentration in journalism at Robert Morris University and is the Editor-in-Chief of RMU Sentry Media.

In...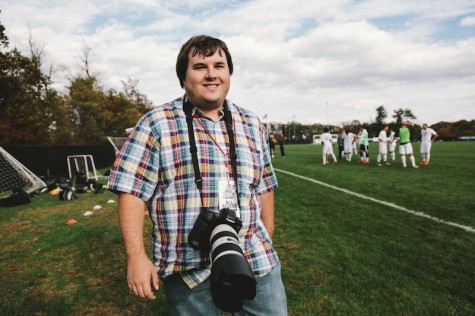 Kyle Gorcey, Freelance Sports Photographer
Kyle is a senior Communications major with a concentration in journalism at Robert Morris University who is a writer and sports photographer for The Sentry. The...