Robert Morris men's hockey Sting The AIC Yellow Jackets
The Robert Morris Men's Hockey team took on the American International Yellow Jackets in the second game of a home-home set on Saturday. The Colonials entered the game with an overall record of 4-7-1 and a conference record of 4-5-1. The Yellow Jackets entered the game with a 4-7-2 overall record and a 3-4-2 conference record.
The game started off competitive for both teams. The Colonials and Yellow Jackets would trade shots for the first fourteen minutes until Ryan Polin of AIC would get called for a holding penalty. That would set up a power play for Robert Morris. They would capitalize on their first of three power plays as Nick Prkusic would score about a minute later. The goal would be Prkusic's second of the season and give the Colonials a 1-0 lead.
""It all starts with playing hard. Right from the first period we came out with great energy and even the last game, the same thing. So I think that's the most important thing to play a complete game." said sophomore goalie Francis Marotte.
Prkusic's goal would be the only one of the first period and the Colonials would enter the first intermission with a 1-0 lead.
The second period would go similar to the first as the two teams refused to let the other pull away. American International would outshoot RMU by 12-5, the only period they managed to outshoot the Colonials in the entire game.
But it was still Robert Morris who would score in the period. That goal by Michael Louria would give the Colonials a 2-0 lead. It was Louria's third of the season.
"I thought it got a little bit of ping-pongish in the middle of the second period when we're just giving each other the puck back and there were a few turnovers," said Coach Derek Schooley.
The Colonials would pull away in the third period as it was all Robert Morris. Three minutes in, forward Brady Ferguson would make it a 3-0 game with his sixth goal of the season. The goal was also the second power play goal for the Colonials. Both teams played a clean game with only seven total penalties between them. That being said, Robert Morris was able to capitalize on two of the three power play opportunities they had in the game.
"I think it is important that you get our top guys going and obviously Brady's been frustrated and has not been producing for what he'd like or what we'd need," said coach Schooley. "I think he took a step in the right direction today. He backchecked hard and created turnovers. A few times tried to do a little too much, but I thought tonight he minimized his turnovers and created some offensive opportunities. That's more accustomed to seeing the Brady Ferguson that we know and love."
The Colonials would later tack on an empty-net goal to cement their victory. That goal was scored by Spencer Dorowicz. It was his sixth of the season.
That would be the final goal for the Colonials. The win was an overall team effort as four different players scored the goals and the team produced a shutout. Coach Schooley would give a shout out to some of his unsung heroes in his postgame comments.
"It's funny I thought one of the more impactful forwards in the game was Timmy Moore. Timmy didn't show up on the scoresheet at all, but I thought he was an impactful player in the game. He had a chance to open the game, did a very good job on penalty killing, he played with energy. Everyone wants to look at the box score, points and everything like that, but as a coach, you look at guys who are impacting the game even when they're not scoring. Timmy was probably one of the better ones as far as that goes. If I had to give the unsung hero award out today, I think I'd give it to Timmy Moore and probably Kevin Levoie who created some quality minutes from our fourth line by pinning them in their zone." said Schooley
The final score would be 4-0 in favor of Robert Morris. Goalie Francis Marotte would earn the shutout and had 19 saves in the game. It was Marotte's second shutout of the season.
"It feels good," said Marotte. "Obviously a shutout gives a lot of confidence not only to me but the team also. It's going to carry over to next week and hopefully, we can come out with two wins."
Robert Morris travels to take on Bentley in a two-game away-away series next week. Those games are important for the Colonials as the two-game sweep of AIC puts them at 11 points, just two behind Holy Cross and Army for first place in the AIC.
"We got a big weekend next weekend," said Marotte. "Against Bentley we want to go there and sweep. Apparently we haven't had a lot of success there. So kind of going there and playing hard again for a full sixty minutes, I think that's all we have to do."
After a rough start to the season, the Colonials are 5-7-1 overall, but they are more importantly 5-5-1 in conference play and only two points out from the AIC lead. Things are looking up for Robert Morris men's hockey. It seems the Colonials have found a way to win it what looked like, at one point, to be a lost season.
"Well the most important thing is to be peaking at the right time," said coach Schooley. "You don't want to have a hot start and a cold finish. We just need to consistently work on our game and making sure we're better. Obviously giving up one goal on the weekends is a good start towards doing that. Now we'll go out to Bentley and hopefully carry forward with a lot of confidence. We've been playing very well. I think you just look at where you are and move forward. You learn from the past and get better."
About the Writer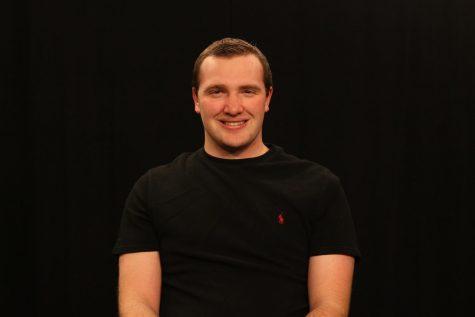 Logan Carney, Sentry & CSN Co-DCM
Logan Carney is a communications major with a focus in sports and he also has a sport management minor. He is in his fourth semester at Robert Morris....