Robert Morris narrowly knocks off Cal U in preseason play
The last time the Robert Morris men's basketball squad took the Charles L. Sewall Center court for a contest, they pulled off an improbable victory over Kentucky in the National Invitation Tournament.
Monday night, in the Colonials' first game on their home floor in 223 days, the role was almost reversed as California University of Pennsylvania nearly knocked off RMU.
This time Robert Morris was on the winning end of the spectrum once again, defeating Division II foe Cal U, 63-58, in exhibition play.
"Thankfully we were able to come out with the victory. This will be an invaluable amount of film that we can watch and hopefully continue to grab guys' attention about what you have to do to be successful at the Division I level," said head coach Andy Toole. "With six new guys, I though some of them did well, some of them didn't do as well. There's certain things I liked that we did and a lot that we have to get better at."
The Vulcans got on the board first after Arman Marks buried a trey from the corner and California (Pa.) utilized two three pointers in the first seven minutes to hold a nine point advantage, its largest of the game.
It would take nearly seven more minutes for the Colonials gain their first lead of the contest, but Cal U used an eight point run to close out the half and knot the score at 28 at halftime.
"As a team, I think we had good energy, it was just the small detail things we go through in practice that we didn't convert over to the game," said senior Anthony Myers-Pate. "A lot of us new guys and old guys, we didn't communicate. It's just little stuff like that."
The Vulcans would not go away quietly in the final 20 minutes of play, matching Robert Morris shot for shot in the second half.
California would regain the lead at the 11:50 mark, but the Colonials secured the victory courtesy of freshman Jeremiah Worthem's two shots from the charity stripe with 2:24 remaining.
Despite the fact that Robert Morris had to come from behind in the last five minutes, Desjuan Newton said that it provided him with some valuable experience.
"I feel it went good because we got the win, but there's always room for improvement, things that we go through in practice, we just have to translate into the game," he said. "I got frustrated from time to time because I can know what my team can do and I hold everyone to a high standard and the small things we weren't doing. I kind of let those things frustrate me"
The Colonials will have Tuesday off before returning to practice the following afternoon to prepare for their next game, a November 9 matchup against Savannah State at the Sewall Center.
About the Contributors
Nick Buzzelli, Sports Editor
Nick is a senior communication major with a concentration in journalism at Robert Morris University and is the Editor-in-Chief of RMU Sentry Media.

In...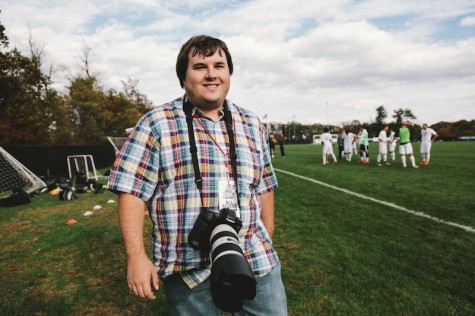 Kyle Gorcey, Freelance Sports Photographer
Kyle is a senior Communications major with a concentration in journalism at Robert Morris University who is a writer and sports photographer for The Sentry. The...