Robert Morris pummels Pioneers despite shortened bench
Anthony Myers-Pate and the rest of his teammates didn't find out that they would be without four players until moments before Thursday night's game against Sacred Heart.
But that didn't affect the squad's performance on the court.
Despite being without freshmen Jeremiah Worthem and Britton Lee, along with walk-ons Evan Grey and Shaire Tolson-Ford, who were suspended due to a violation of a university policy, the resilient Robert Morris program rolled to victory versus the Pioneers, routing SHU, 91-65.
"We actually found out during warm-ups," said Myers-Pate, a senior. "We couldn't worry about what we couldn't control, we had to stick together as a family and step up like men and get the job done."
Lucky Jones paced RMU with 18 points and 11 boards, while five other Colonials scored in double figures, something that hasn't happened all too often this season.
"That's the type of team this program has predicated itself on being anyway. Last time [against Sacred Heart], it was just one of those nights and I was glad everybody got a piece of it tonight," said Karvel Anderson, who netted 15 tallies on a 5-10 performance from the field. "We had fun out there and it shows better on the scoreboard that we're a better team when we all perform."
"Obviously I'm very thankful to get the win and proud of our guys in the way that they performed tonight," said head coach Andy Toole. "I thought they played excellent as a team. I'm really proud of the effort and the way they handled themselves on the floor tonight."
Robert Morris senior Mike McFadden, as well as transfer Desjuan Newton, whose statuses are still up in the air according to Toole, were also not present, which gave the Colonials three bench players, compared to the Pioneers' seven.
Jones didn't think it seemed to make a difference.
"We just came out here and ended our business with the guys we had on the bench. That's how we had to do it. And we just got the job done," he said. "I was just coming out here and doing what my coaches asked me to do, get a lot of rebounds, make open shots, and just do what's best for the team.
Due to McFadden's absence, sophomore center Stephan Hawkins will be the Colonials primary presence in the paint, something the Gary, Indiana native is adjusting to.
"The encouragement from my teammates, telling me that I have more talent than I've showed previously in conference play [is comforting]," Hawkins said. "Lucky inspires me a lot. He usually comes to me before games and tells me 'let's work, let's get it.'"
Robert Morris will look to extend its winning streak to six consecutive contests Saturday afternoon versus Wagner. Tipoff is set for 4 p.m.
About the Contributors
Nick Buzzelli, Sports Editor
Nick is a senior communication major with a concentration in journalism at Robert Morris University and is the Editor-in-Chief of RMU Sentry Media.

In...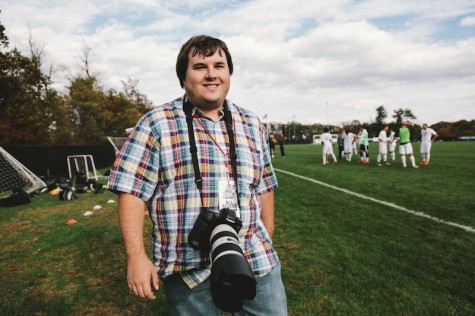 Kyle Gorcey, Freelance Sports Photographer
Kyle is a senior Communications major with a concentration in journalism at Robert Morris University who is a writer and sports photographer for The Sentry. The...