Robert Morris rallies around suspended teammates
The Colonials remain united despite roster shakeups
Nearly one hour before Robert Morris' matchup against Wagner on January 25, Jeremiah Worthem and Britton Lee were among the first fans seated in the student section of the Charles L. Sewall Center.
Despite being suspended indefinitely at the time, along with Evan Grey and Shaire Tolson-Ford, and unable to take the court for the Colonials, the freshmen were in attendance to support their former teammates.
"Me personally, that fired me up, to see them still supporting us even though they're not on the team no longer," forward Aaron Tate said after RMU's four point win over the Seahawks. "That made me happy and made me want to play harder."
Although the Colonials have had a bench three players deep for the past four contests, Robert Morris hasn't skipped a beat, going 3-1 during that span.
"I think it [having eight players] has brought us together tremendously. We know what was going on on campus and us losing our players," Anthony Myers-Pate said. "We just stick together, with the eight guys we got, we're going to go to war no matter what."
Since January 23, the starting lineup of Myers-Pate, Karvel Anderson, David Appolon, Lucky Jones and Stephan Hawkins have become acclimated to being on the court at the same time with one another, something head coach Andy Toole is satisfied to see.
"I definitely have liked the way the guys have rallied together, I like the way that our leadership has kind of grabbed everybody and kind of closed ranks a little bit and made the team really enjoyable to work with in these last couple weeks," he said. "Everybody is engaged every day and we sit and watch film and we talk about different things and I think guys are really in tune with each other. And obviously playing with some pretty good confidence right now."
The absences of Worthem and Lee, both Philadelphia natives, along with Mike McFadden and Desjuan Newton, who are figuring out their futures, has increased the leadership role of Anderson and Myers-Pate, both seniors.
"It's just more fuel to the fire to win for them. Obviously I think we've done a great job with leading the team. I think we have some of the leadership that other teams don't have," said Myers-Pate, who is RMU's longest tenured player. "Me, [Karvel], and Luck[y] can lead the team to the best of our ability and everybody's doing a great job at following our lead."
Toole agrees.
"I think it's that guys are really comfortable now because some of the guys that were maybe not as consistent in minute situations now know that they're going to play," the fourth year bench boss said. "So now when they go on the floor, they know 'hey, let me play my game, I don't need to try and impress anybody, I don't need to try to do something that I am not capable of doing, I just need to go out and be me.'"
Though they have the opportunity to re-enroll at Robert Morris in 2015, Anderson said that even if Worthem, Lee, Grey, and Tolson-Ford don't return to Moon Township, they will always be a part of the RMU family.
"Those are still our brothers. Whatever happened, happened, it takes nothing away from what we've been throughout the whole year," he said. "That's still family, no matter what. They're going to support us, we're going to support them, no matter what happens."
About the Contributors
Nick Buzzelli, Sports Editor
Nick is a senior communication major with a concentration in journalism at Robert Morris University and is the Editor-in-Chief of RMU Sentry Media.

In...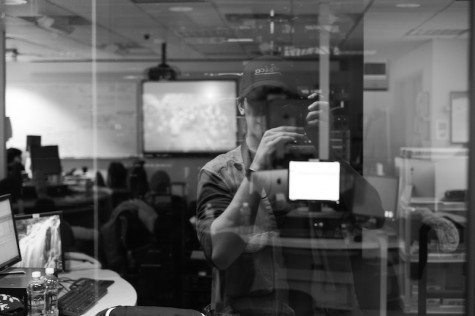 Paul Wintruba, Contributor
Paul is a junior photography major, and is a photographer for RMU Sentry Media.