Sacred Heart steals FCS playoff bid, stifles Robert Morris on Senior Day
It was an emotional Saturday afternoon at Joe Walton Stadium as the Robert Morris football team took on Sacred Heart in a highly anticipated matchup with Northeast Conference championship implications on the line.
In head coach Joe Walton's final home game at the helm of the program, the Colonials weren't able to pull out the win, falling 42-25 to the Pioneers on Senior Day.
"We got beat by a very good football team," said Walton after the game. "They were ready to play, and played very well. You've got to give them credit; they were the best team today."
The Robert Morris offense struggled heavily throughout the afternoon, but picked things up a little bit in the second half. Quarterback Paul Jones finished 13 of 32 for 175 yards while throwing two interceptions. It was not his best outing by any means, but Walton alluded that the junior transfer has a bright future ahead.
"He feels bad. I told him he's going to have his shot," said Walton. "This team will get better. We've got a lot of good young players. I think he'll have his shot, he's gotten a lot better over the last half of the season and he's going to be a very good quarterback."
Senior tailback Deontae Howard finished with 80 yards on 12 carries and a touchdown. Junior receiver Duane Mitchell caught four passes for 67 yards. The offensive line struggled heavily as the Pioneer defensive attack pressured Jones all day.
"They blitzed quite a bit early in the game and hurt some of our run blocking," said Walton. "We couldn't take advantage of it when we threw the ball. We did a little better in the second half, but there's no doubt they were ready to play."
Senior linebacker Mike Cook led all defenders with 14 total tackles in the contest. Defensive lineman AJ Holderman returned an interception 17 yards for a touchdown.
With the win, Sacred Heart clinches at least a share of the NEC title, and the highly coveted FCS playoff berth. They were picked to finish seventh in the preseason polls, showing just how much of a toss-up the conference race was this year.
"Everybody knocks everybody off," said senior tackle AJ Dalton. "That's just the way things happen. It's all about who comes to play on Saturday and who executes the best and doesn't make mistakes in the NEC."
Robert Morris still has the possibility of earning a share of the conference championship. In order to do so, they must win next week against Saint Francis and gain some help along the way. Kickoff next week is set for noon in Loretto, PA.
About the Writer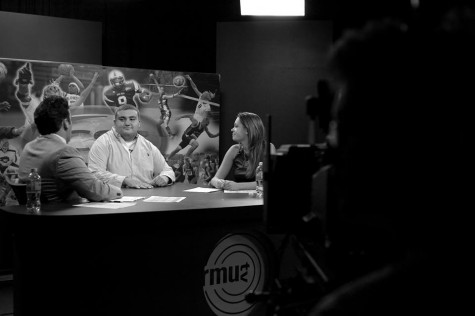 Chris Mueller, Sports Reporter
Chris is a junior Communications major at RMU with an applied concentration in journalism. He is Sports Editor for RMU Sentry Media.  As current Sports...