Salute to Schoenecker: Senior goalie ends career on high note
A loss to Sacred Heart last Friday ended the Robert Morris women's soccer team's chances of earning a Northeast Conference tournament berth. Despite coming up short, last weekend capped off the career of one of the best players to come through the program in recent history, senior goalkeeper Becky Schoenecker.
Schoenecker started playing soccer at a very young age, but her plan wasn't always to be a goalie. In fact, it was actually just the opposite.
"I love the competitive nature of sports in general," she said. "And soccer was kind of the first sport that I really started to play and enjoyed playing. My freshman year of high school I wanted to play junior varsity forward. But I was forced to play varsity goalie. I had played forward in middle school."
Regardless of her preferred position, it is no doubt that she is a great athlete. Schoenecker was named NEC Defensive Player of the Week three times this season. Her 13 saves on Senior Day against Saint Francis was icing on the cake of an outstanding career.
"It's really exciting for my senior year to go out to a bang," said Schoenecker. "It's really nice to still have a member of the team recognized because we've had RMU players in the weekly honor all most every week now."
Schoenecker has claimed the RMU record for goals against average, sitting at 1.22. Though, she's never one to boast about it. According to Schoenecker, her reliance on the rest defense is what got her through the tough times, even when the team was struggling to score goals.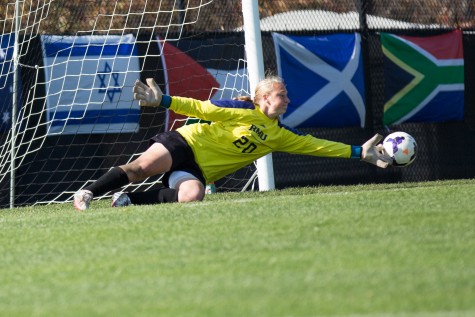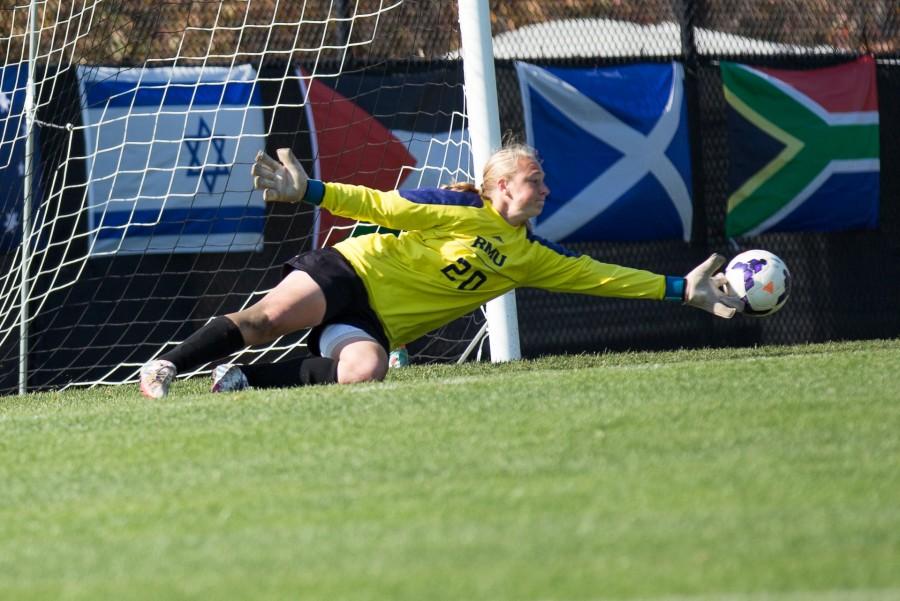 Kyle Gorcey
"I'd like to thank all of the members of the defense," she said. "It's kind of us against the world in a lot of games. Lauren [Pietrowski], who's on the left side, does an amazing job. Melissa [Ercoli], our central defender, Kayla [Kelley] who is doing incredible for a freshman, and then Maddison Duncan, and Hanna Seybold."
It is no doubt that the Colonials have improved substantially since Schoenecker arrived, and her leadership started early on helping out others.
"Playing with Becky is probably one of the best experiences I've had at Robert Morris with another player," said Ercoli. "By far, over the past three years I've known her, she has improved tremendously. She puts in an enormous amount of work and always brings a positive attitude and a lot of dedication to the table. She's just overall a great person and a great athlete to be around."
It's not just about her performance on the field, either. Schoenecker's always been an easy going person, and always tries to make the best out of everything she can.
"Just being able to hangout with my teammates and friends is great," she said. "The inside jokes and the little things make it fun. Especially with the defense. The two center backs Melissa and Kayla, I've really gotten to bond with them a lot this year so it's a lot of fun."
Schoenecker isn't positive about what's next after her playing days, but the Colonials aren't sure what life without their senior goaltender will be like, either.
"It's definitely not going to be the same," Ercoli said. "Seeing as we have two other goalkeepers on our team, I've kind of gotten to know the other two as well, and gotten to see how they play so I think we'll be able to get things going and be able to fit them into the lineup, but I'll definitely miss Becky as a person."
About the Contributors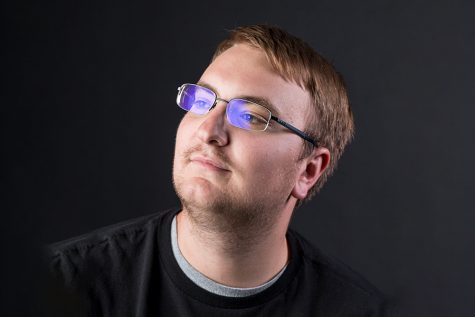 Nick Milliron, Videographer
Nick Milliron is a senior TV/Video major, with a minor in Documentary Studies. He is the general manager for RMU-TV and currently works for AT&T Sports...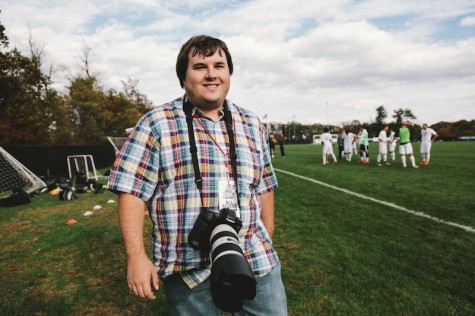 Kyle Gorcey, Freelance Sports Photographer
Kyle is a senior Communications major with a concentration in journalism at Robert Morris University who is a writer and sports photographer for The Sentry. The...