Salute to the Seniors
Artemis Spanou, Kelly Hartwell and Britta Emberg are the three current seniors of the Robert Morris University women's basketball team set to graduate come May 2014. As their time at RMU begins to wind down, what won't be forgotten is the imprint they left on both their basketball program and University.
Each of the three seniors hold different roles within the team, but regardless of minutes played or points scored, their value to the success of the program are all equally and vitally important.
"All three of them have been great kids throughout the program, no question," said 11-year head coach Sal Buscaglia. "They're great to work with. Artemis has been a great player here for four years, but also the work Kelly and Britta have done here. Both of them have worked hard for four years, not only in basketball, but they're also great people and students."
The relationship they have with each other directly transcends the bond around the entire team; viewing each other not only as teammates, but sisters, and the squad not just a team, but family.
"I'll miss the camaraderie around the team," said Hartwell. "Each year, each team is different, but you always mesh with certain people. I felt this year it's been great with the teammates, enjoying each other on and off the court."
 Spanou, likely to begin a professional career after her time at RMU, concurs with Hartwell's thoughts.
 "It's my second family here," she explained. "I'm going to miss my teammates. Playing for RMU is great. The atmosphere here, I'm definitely going to miss all of that stuff."
 Emberg is one of five American born players on the roster, and is thankful for the opportunity she received at Robert Morris, allowing her to develop relationships with players hailing from all over the world.
 "Half of my teammates are from overseas, and it's going to be tough that I can't just drive twenty minutes when I want to see them," she said.
 Together, the three seniors have spent the last four years of their lives not only developing their basketball abilities, but their character as well.  Through ups and downs, they've stuck together and are on the brink of accomplishing the ultimate goal: going to college, graduating together and receiving their degrees.
"This is what I dreamed about since freshman year, knowing that we'll be walking across the stage together," said Emberg. "It's great because we came in together, and that we can say we did it together,. It's unbelievable."
Not only do they excel on the court, but in the classroom. Each will graduate on time while growing as people – exploring college life, expanding horizons and finding new interests.
"I love hanging with my teammates, but outside of basketball I really enjoy photography," said Hartwell. "That's pretty much my hobby when I have free time."
Spanou on the other hand, is usually spending her free time in the gym, but she didn't shy away from admitting her enjoyment of a latte from time to time.
"Well, if I don't study and I'm not practicing, I'm usually on the court again," she said with a laugh.  "But I like going to Starbucks and relaxing a little bit. I'd say that's the only thing that gets me out of campus here."
The seniors of the Sewall Center are set to cap off their careers at the conclusion of the 2013-14 season. But as their time in Moon Township comes to a close, the names Spanou, Hartwell and Emberg will surely ring a bell at Robert Morris, for reasons stretching far beyond just basketball.
About the Writer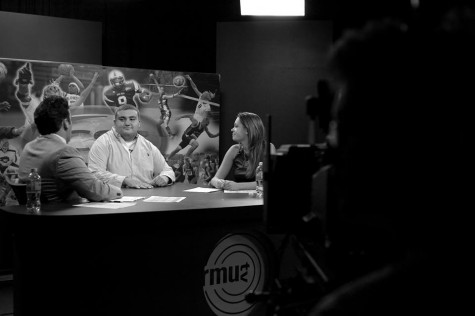 Chris Mueller, Sports Reporter
Chris is a junior Communications major at RMU with an applied concentration in journalism. He is Sports Editor for RMU Sentry Media.  As current Sports...