SeaHacks: Spanou sets another record as Colonials run away from Wagner
It was just two games ago that Artemis Spanou grabbed down her twentieth rebound against Fairleigh Dickinson, cementing herself as the Northeast Conference all-time leading rebounder.
A week later, she was back to writing her name in the record books, this time for consecutive double-doubles as Robert Morris defeated Wagner 74-63 Monday afternoon.
The Greece native posted 30 points, 19 rebounds and six assists, to go along with two blocks and two steals on the night. She marked her 73rd career double-double, passing Jess Zinoble of St. Francis PA to break the NEC record.
A total of 54 player fouls were called between each team.
"It's tough, you've got to do different things on defense to not put yourself in bad situations,"said associate head coach Charlie Buscaglia. "It got a little ugly for about ten minutes in the second half. On their [Wagner] end, it was a calling of hand check or a body foul. On our [Robert Morris] end, it was going up for a shot. It was very stressful when they're calling the game this tight, but that's what they're supposed to do."
The score was knotted at 31 heading into halftime, but the Colonials went on a 10-2 run coming out of the break. The Seahawks ultimately tied the game again with eight minutes remaining, but that's when Spanou took over.
She scored five of her team's next eight points the push the Colonials' lead back to six. Robert Morris then made seven of its next eight free-throws to seal the victory, and improve to 5-1 in the NEC.
"We definitely started slow," Spanou said. "We came out of the second half and won. We knew they were aggressive and would come after us. They didn't just come to play a game and leave, they wanted to win. But we wanted that more and were more aggressive."  
Sophomore Guard Ashley Ravelli, who tallied eight points, four assists and four rebounds on the day, agreed with Spanou that the team could of started faster in the first half.
"I definitely feel like we could have played better. The first half was kind of rough, we weren't focused enough," said Ravelli. "I think in the second half, with the leadership we have on our team, we stepped it up."
Freshman point guard Anna Niki Stamolamprou chipped in with 15 points and five rebounds. Spanou talked about her impact on the game.
"It's really important for our point guard to be focused and have control," she said. "That's what Anna Niki did today. Even though she's a freshman, she managed that really well and I'm proud of her."
In the win, RMU capped off a home stand in which they went 4-0. Next, the team hits the road for four straight matchups, starting with LIU Brooklyn on Saturday, January 25th.  
About the Writer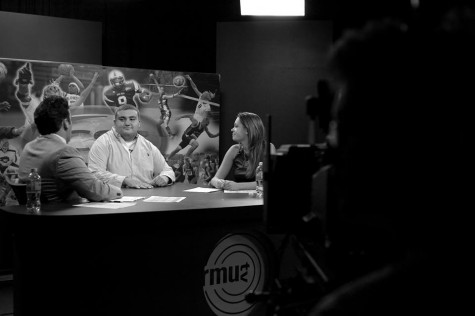 Chris Mueller, Sports Reporter
Chris is a junior Communications major at RMU with an applied concentration in journalism. He is Sports Editor for RMU Sentry Media.  As current Sports...