Second half surge carries Colonials past Saint Francis 73-68
The Robert Morris men's basketball team has won 12 straight games over in-state conference foe Saint Francis (Pa).
Even though the Red Flash nearly scored an upset over RMU, leading by as much as 11 with 4:40 remaining, the Colonials had other plans.
Karvel Anderson netted five of his 24 tallies in the game's final 2:20 as RMU rolled to its third consecutive Northeast Conference victory Thursday night at the Charles L. Sewall Center.
"It's a reluctant win. They're a really good team, they're different from the past couple of years, they got confidence, they got heart," said junior Lucky Jones. "We kind of took it for granted, as a whole, and they hit shots. When you have a team that can shoot three pointers as good as them, they're going to stay in the game the whole time."
Both teams matched each other shot for shot during the game's early minutes, but after Mike McFadden's layup at the 11:52 mark, the Colonials went on a 9-0 run to head into the locker room up 12.
However, the second half was a different story.
The Red Flash kept closing the gap and eventually knotted the score 12 minutes into the second half, courtesy of Earl Brown's three pointer.
From there, SFU went on an 11-0 run, but the resilient Colonials fought back and utilized the long ball in order to secure the five point victory.
"Obviously thankful to have won the game. I think that's the best way to describe it," said head coach Andy Toole. "I thought we did a lot of good things in the first 30 minutes and then we allowed them some opportunities to make some shots, which obviously allowed them to take the lead but thankful we were able to pull it together in the last 4:40 to steal a win."
Even though the 1,221 fans that packed into 'The Chuck' Thursday night weren't nearly as many as those present during the first-round of the 2013 NIT, Jones said that they were a big reason why his team won.
"We want to thank every Robert Morris fan that came out and helped us out in this win tonight because without them, I believe that we would have not won this game," he said. "With the crowd and the emotion, the last time I heard the crowd like that was when we beat Kentucky. If we have performances like that when we get deeper in conference, that'd really help."
About the Contributors
Nick Buzzelli, Sports Editor
Nick is a senior communication major with a concentration in journalism at Robert Morris University and is the Editor-in-Chief of RMU Sentry Media.

In...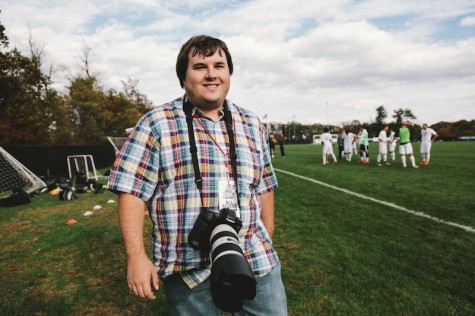 Kyle Gorcey, Freelance Sports Photographer
Kyle is a senior Communications major with a concentration in journalism at Robert Morris University who is a writer and sports photographer for The Sentry. The...