Second half surge pushes Robert Morris over LIU in NEC Tournament
For Robert Morris, the first half of Sunday's NEC quarterfinal matchup against LIU Brooklyn resembled everything they were trying to avoid heading into the conference postseason.
A slow start, first-half jitters, and a few unlucky breaks caused the Colonials to catch a glimpse of their ultimate nightmare; being bounced in the first round as the No. 1 seed after winning the regular season championship and hauling in Coach of the Year and Player of the Year honors.  
However, senior forward Artemis Spanou and company weren't about to see their season end. The Greece native paced the Colonials with 22 points and 15 rebounds as Robert Morris came back to defeat LIU Brooklyn 65-49 to advance to the NEC semifinals.
"At halftime, before the coaches came in to give us instruction, I told my teammates 'I'm not ready to go home yet. I'm not ready to quit and give up right now'," said Spanou. "We were only seven points back and weren't playing our game. This is our court and we wanted to come out and play the way we know how to play."
The message was well-received, and Robert Morris fired out on all cylinders in the second half. The 31-24 halftime deficit was erased within the first six minutes, and RMU found itself up nine with 10 minutes to play.
"Artemis is one of our captains and she's our leader and always makes us go," said freshman guard Anna Niki Stamolamprou. "I was sure about my team. We sat down and made sure we were ready to play better in the second half."
Stamolamprou added 14 points, while senior forward Kelly Hartwell chipped in 10 points off the bench, eight of which came in the second half.
"Kelly Hartwell is a senior as well," said head coach Sal Buscaglia. "She doesn't want this to end. She want's what we all want to get. She doesn't show it as much because she's quiet and a good type of kid, but she wants it and the fire was there."
Hartwell's confidence in the second half was something to note. Buscaglia and his staff purposely save her minutes for late in games, and it was evident that she was playing with more energy than anyone on the court.
"Hartwell killed us in the second half," said LIU head coach Gail Striegler. "She was one of the one's we weren't guarding. They did a good job of putting two people we weren't guarding man on the same side, and attack with one of them."
The Colonials are back in action on Wednesday evening at the Sewall Center, however they're opponent is still TBD. Robert Morris, the No. 1 seed, will face the lowest remaining seed based off the quarterfinal results. Tip-off for that game is set for 7PM.
About the Writer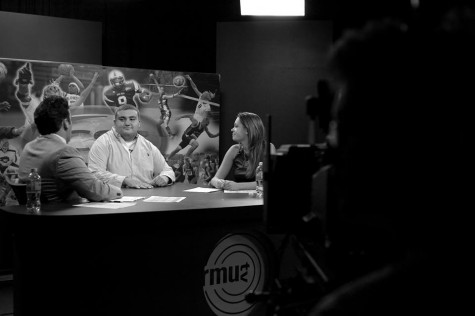 Chris Mueller, Sports Reporter
Chris is a junior Communications major at RMU with an applied concentration in journalism. He is Sports Editor for RMU Sentry Media.  As current Sports...