Sentry Sunday Scoreboard: NFL Week 4
As week 4 of the NFL wraps up, I'm here to bring you another weekly recap on the Sentry Sunday Scoreboard. I have a lot to talk about this morning from a lot of close games over the weekend. And Thank God it's not about anymore replacement referees.
GEMS
FALCONS 30 PANTHERS 28
Matt Ryan aka Matty Ice came through in the clutch for a 4-0 Falcon team that looks like a legit contender in the NFC. The game-winning drive started at the Atlanta 1 yard line with 1:09 left on the clock, and Ryan led his team down into field goal position with a spectacular catch from receiver Roddy White. Atlanta's kicker Matt Bryant nailed a 40 yarder with 5 seconds left to give Atlanta the win. What is weird is that the game closely resembles RMU-Lafayette last Saturday……weird.  I feel for Carolina qb Cam Newton. He can't seem to catch a break this season.
Quick Fact- I had the same 5th grade teacher as Matt Ryan. We are both alums of SS. Philip and James catholic grade school…just thought I'd let you know
REDSKINS 24 BUCS 22
RG111 threw for over 300 yards as the Redskins are actually looking like a football team this year. Winning on a field goal by Washington kicker Bill Cundiff, the Redskins nearly let this one slip away as Tampa erased an 18 point deficit. After missing three earlier field goal attempts, Cundiff nailed a 41 yarder to improve the Redskins to 2-2.  Lucky for Griffin's sake, Washington didn't need to take a QB kneel at the end of the game
EAGLES 19 GIANTS 17
A back and forth game all the way, Michael Vick played 4 quarters of safe, non-turnover-ridden football for the first time all season.  A big night from running back Lesean McCoy helped Philadelphia hold on for a victory on Sunday Night Football. Giants kicker Lawrence Tynes missed two consecutive field goals at the end of the game that could of gave them the victory. Eagles coach Andy Reid tried to ice Tynes, calling a timeout right before the kick which he eventually missed. This gave Tynes another shot at it, but his 2nd attempt fell a few yards short and the Philly-faithful went nuts. The Eagles are pulling out close win  after win and are now 3-1 on the season. They look to a cross-state matchup with the Steelers next week, which means I'm wearing my eagles gear all week here at RMU.
BEST OF THE REST
PATRIOTS 52 BILLS 28
A game that looked to be all Buffalo throughout the first half, Tom Brady and crew got it together as the New England offense exploded while putting up 52 points on a rugged Buffalo defense. When the Patriots got their running game going, they were almost impossible to stop as Gronkowski and Welker were big contributors in the receiving game.
PACKERS 28 SAINTS 27
Saints kicker Garret Hartley missed a 48 yard kick with under 3 minutes left that would have given New Orleans a 2 point lead, but it just wasn't their day as the Packers bounced back from last week's controversial game in Seattle. I don't know how anyone can expect New Orleans to be good this season when they are without their head coach Sean Payton for the whole year, and their interim coach Joe Vitt for half the year. When your offensive line coach is running the show, that's when you know its going to be hard to compete. A bright spot in the Saints 4th loss on the year was Drew Brees, who thre for 446 yards and 3 TDs.
VIKINGS 20 LIONS 13
If you have the Vikings D/ST starting on your fantasy team this week, than you can atleast say your in pretty good shape. Two special teams ruturns for TDS by Percy Harvin and Marcus Sherels propelled Minnesota to the win over a feisty Detroit team in a NFC north battle. The Vikings, surprising a lot of people, have improved to 3-1 this season and seem to be rallying around coach Leslie Frazier. Harvins kick return for 105 yards sets the record for longest kick return in Vikings history.  A nice defensive performance by Minnesota also helped them to contain Matt Stafford.
That's it for this week from the Sentry Sunday Scoreboard. My thoughts and prayers go out to Colts head coach Chuck Pagano, who was diagnosed with Leukemia and will have to undergo treatment to for the next 6-8 months. See you guys next week.
–Chris
About the Contributor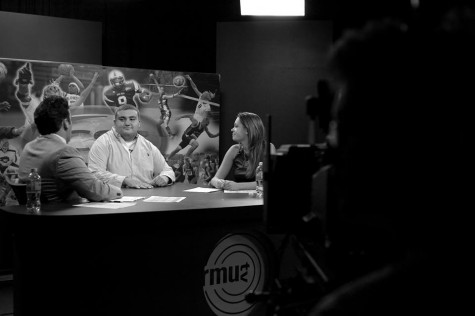 Chris Mueller, Sports Reporter
Chris is a junior Communications major at RMU with an applied concentration in journalism. He is Sports Editor for RMU Sentry Media.  As current Sports...