Seton Hall survives scare from Butler in Big East Tournament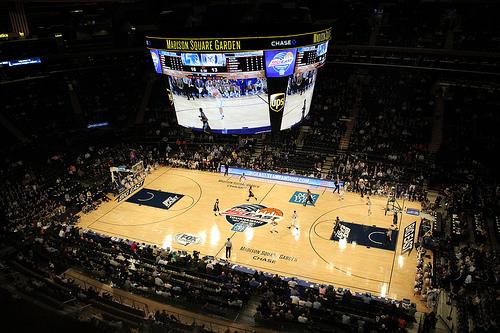 New York – After finding success at the mid-major level, which included back-to-back second place finishes in the 2010 and 2011 NCAA Tournaments, Butler University bounced between the Horizon League and A-10 before settling on the Big East Conference for the 2013-14 season.
Though the Bulldogs had a rocky freshman campaign in their new league, going 4-14 in conference play, they had an opportunity to establish themselves in the rebranded association.
But first, they had to win a Big East Tournament game.
Despite playing "The Butler Way," the Bulldogs were unable to sink the Seton Hall Pirates, falling 51-50 Wednesday night at Madison Square Garden.
"It [the Big East] is a very strong league. I don't know how many leagues can say that their seventh seed in the tournament has the wins that our seventh seed in our tournament has," said Butler head coach Brandon Miller. "There's not a day where you have a guaranteed win … but from top to bottom, obviously it's a very competitive league."
Khyle Marshall netted four of the game's first six points, giving BU an early two point advantage 1:38 in, but a 10-2 Seton Hall run midway through the first half put the Pirates up by six.
Every time the Bulldogs trimmed SHU's lead, the Pirates responded, tallying 11 unanswered points during a 5:20 span in the second half.
But despite trailing by as many as 13 with less than 10 minutes remaining, Butler continued to battle, cutting the lead to one after Kellen Dunham's dunk off of an intercepted Sterling Gibbs' pass.
BU had a chance to score the go-ahead bucket with 11 seconds remaining, but Dunham had the ball stripped and stolen by Fuquan Edwin on the layup attempt.
Down one with 3.4 seconds left after Brandon Mobley's missed one-and-one, Alex Barlow attempted a half-court shot for the win as time expired, but it was off the mark, inevitably ending Butler's season.
"I can't believe it's over. It hit me pretty hard knowing this could possibly be my last game in a Butler uniform, but I have to give credit to our guys," said Marshall, a senior, who finished with a game-high 22 points. "They fought the whole game, all 40 minutes. Even when we were down double digits late in the second half, we continued to fight."
Despite that Butler was unable to advance to the second round of the Big East Tournament, Miller is proud of his program's initial campaign in its new league.
"To look back on this year, I love the fact that we played our best basketball towards the end of the season," he said. "We have a lot of good pieces in our program right now, we have good pieces coming in. I love the strides that we've made. Obviously I like the improvement, but I understand that we're not where we need to be right now. But I do think we're headed in the right direction, going the right way."
About the Writer
Nick Buzzelli, Sports Editor
Nick is a senior communication major with a concentration in journalism at Robert Morris University and is the Editor-in-Chief of RMU Sentry Media.

In...