Staying Perfect: RMU improves to 7-0 in NEC play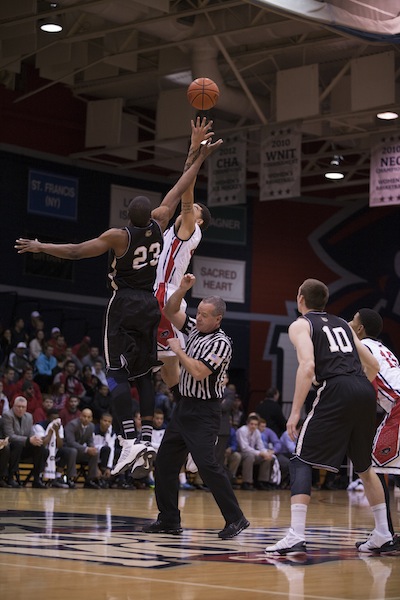 Thursday night, RMU faced the Bryant Bulldogs in a matchup for first place in the Northeast Conference. Both teams came in looking to show their conference dominance on national television.
Having the Sewall Center packed with 2,455 fans, the players fed off the atmosphere and started the game strong by getting up early. Within the first four minutes of the game RMU was up 11-2, hitting four of the six shots they took. This was the start RMU needed, and they didn't look back the entire game.
At the end of the first half, the team was playing lockdown defense and moving the ball well As the second half started the Colonials wanted another quick start, and got it. They got up 51-39 at the first media timeout.
Bryant, on the fringe of getting embarrassed on national T.V., started to fire on all cylinders and made the game close, a little too close. The Bulldogs started to figure out the zone of the Colonials and got open lay-ups and put backs. As the comeback started, RMU never fronted and stayed strong in their fundamentals and kept to the game plan.
Bryant got within three but with only little time remaining they had to start fouling. Karvel Anderson went to the line with just under a minute left and hit one of two bringing the score to 75-71. After a made lay-up on the other end, senior Anthony Myers-Pate got fouled and hit both of his free throws. With just 13 seconds left, Karvel Anderson went back to the line and made both, giving RMU the lead by three and sealed the win for the Colonials.
This was another strong fought total team win. The Colonials made 16 of 17 free throws and out rebounded Bryant, 36 to 28.  Making 34.6% of their three pointers attempted helped RMU win the game. This was a start to finish win for the Colonials. After a big win on ESPNU, the team moves their focus to Central Connecticut State, which has only one win in conference play thus far.